A labeled Map of Kiribati shows that Kiribati is an independent republic comprising a chain of islands, located in the Pacific Ocean. This nation across the equator is approximately one-half of the distance from Hawaii to Australia. Kiribati includes three major groups of islands. They are the Phoenix Islands, Line Islands, and the Gilbert Islands. These islands belonged formerly to the Ellice Islands Colony, and the British Gilbert. However, the Gilbert Islands were awarded self-rule status and obtained total independent republic under the new name of Kiribati in 1979.
Labeled Map of Kiribati
There are thirty-three coral islands in Kiribati, which is divided into three groups of islands. Kiribati is famous for global class fly fishing activities, scuba diving, and the remarkable wildlife of seabirds. Kiribati is within the Commonwealth of Nations. The estimated population in 2020, is equivalent to 119,449 people, at the middle of the year according to the UN data. The population of Kiribati is equivalent to 0% of the total global population. By population, it can be seen that Kiribati is ranked as 193 among the list of countries and dependencies.
The total land area occupied is equivalent to 811 square kilometers or 313 square miles. This covers all the three groups of islands. The total land area as well as water area is equivalent to 2485 square miles. Kiribati islands do not support any rivers. Religions practiced, include Roman Catholics, Kiribati Uniting Church, Mormon, Bhai, Seventh Adventist and other religions.
Labeled Map of Kiribati with States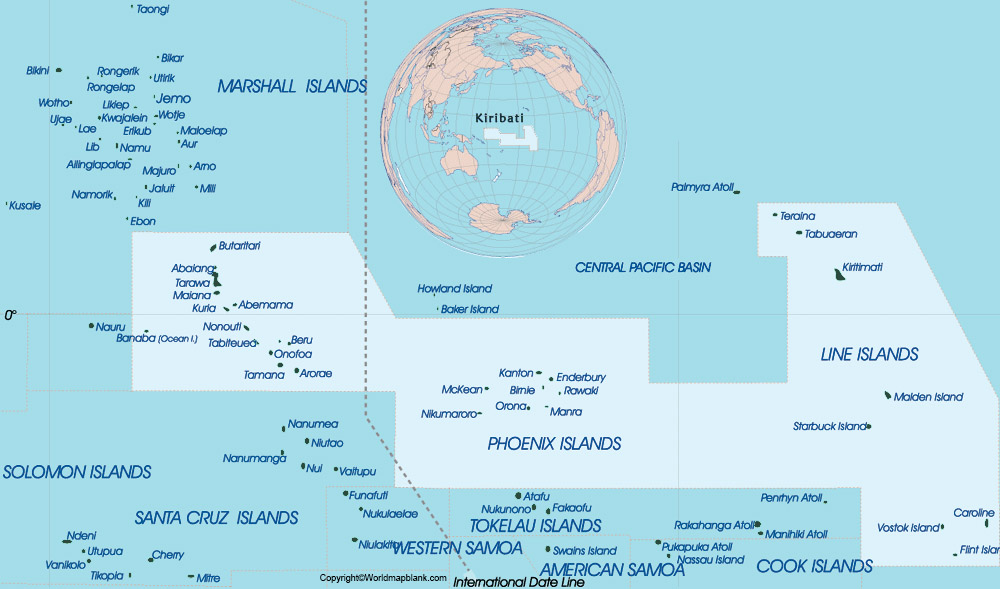 As a part of the labeled map of Kiribati, it can be seen that there are about twenty-one islands that are inhabited. Each of them is managed by its own council. Two of the islands have more than one island councils. For a total of twenty-four councils, it can be seen that Tarawa has three councils and Tabiteuea has two councils, respectively.
Labeled Map of Kiribati with Cities
As a part of the labeled map of Kiribati with cities, it can be seen that Kiribati has ten large cities. These cities, include Tarawa, located in the Gilbert Islands with a population of 40,311 people. Other cities include Betio Village, Bikenibeu Village and Teaoraereke Village, all of them situated in the Gilbert Islands.
Labeled Kiribati Map with Capital
As a part of labeled Kiribati with capital, it can be seen Tarawa is recognized as the capital city of Kiribati. This is an atoll situated in the Gilbert Islands. In South Tarawa of Kiribati, one can find that most of the prominent government buildings are situated. Other offices related to ministries, foreign embassies are situated in South Kiribati of Tarawa. The House of Assembly is located in this place that serves as the place for meeting as a part of the central government's National Assembly.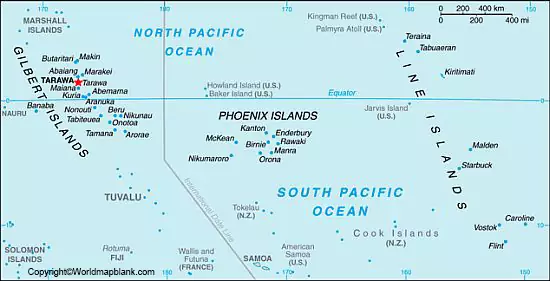 South Tarawa is also famous for important buildings, churches, hospitals, and several prominent educational institutions. This city is the economic hub of Kiribati. Fish processing and copra are the largest industries; several banks and other financial institutions have their offices in Tarawa.