Here on this page, you'll find a labeled map of the world for free download in PDF. You can save and print your map of the world labeled as many times as you need. Simply click on the link below the desired picture of the world map labeled to get your map.
We also provide various other world maps based on different topics, such as a blank world map or a world map with oceans and seas as well as a world map for kids and a political world map.
For teaching your kids or students about the geography of the world, you might also want to take a look at our ready-made and fully customizable world map worksheets!
Labeled Map of the World
Our first map is a map of the world with countries labeled. This is a political map of the world showing the names of the countries on planet Earth as well as the oceans and seas.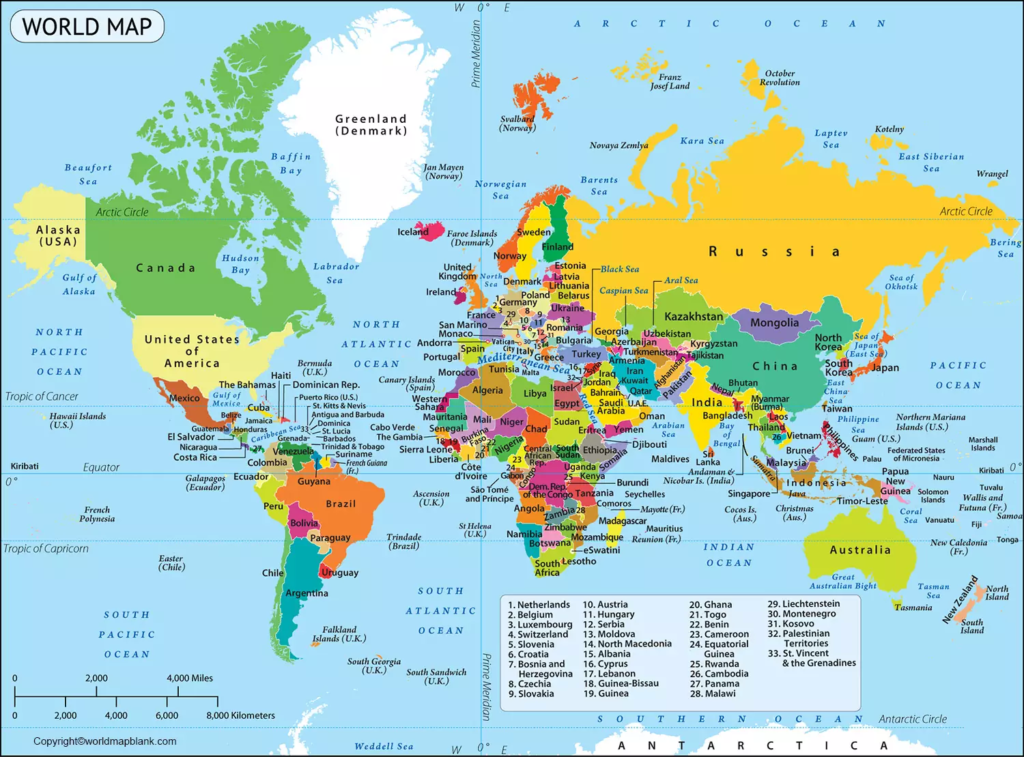 Throughout this website, we offer more related political world maps and world maps of the oceans and seas.
Map of the World Labeled
The next map is a world-labeled map with the seven continents as well as the oceans. Just click on the download link below the image to save the map as a PDF file or print it immediately.
In case you need a map of a particular continent, we provide continent maps for Africa, North America, South America, Europe, Asia, Australia, and Antarctica. We also offer a map of the world with continents and a blank world map.
Labeled World Map With Countries
Here is another map of the world with the countries labeled.
How Many Countries Are There in the World?
As of 2022, there are 195 sovereign countries in the world. However, this number is always changing, and there are disputes about what makes an independent country. For instance, while Taiwan is recognized by some countries as a sovereign state, even the United Nations officially regard it as a province of China.
What Are the Largest Countries in the World?
Here is a list of the 10 major countries in the world by land area and population (as of 2022).
10 Largest Countries in the World by Land Area
Russia – 6.3 million mi² (16.4 million km²)
China – 3.6 million mi² (9.4 million km²)
United States of America – 3.53 million mi² (9.15 million km²)
Canada – 3.51 million mi² (9.1 million km²)
Brazil – 3.2 million mi² (8.4 million km²)
Australia – 2.97 million mi² (7.7 million km²)
India – 1.15 million mi² (2.97 million km²)
Argentina – 1.06 million mi² (2.7 million km²)
Kazakhstan – 1.04 million mi² (2.7 million km²)
Algeria – 0.92 million mi² (2.38 million km²)
10 Largest Countries in the World by Population
China – 1.425 billion
India – 1.417 billion
United States of America – 338 million
Indonesia – 275 million
Pakistan – 236 million
Nigeria – 218 million
Brazil – 215 million
Bangladesh – 171 million
Russia – 145 million
Mexico – 128 million
While China is still at the top of this list, India is expected to take over the first position soon. The total number of human beings on planet Earth has reached the 8 billion mark. The UN expect the global population to grow to 9.7 billion by 2050 and over 10 billion by 2100.
According to the United Nations, the highest annual population growth is recorded in Moldova (6.91%) and Poland (4.04%). But also African countries such as Niger (3.78%), DR Congo (3.25%) or Chad (3.16%) have high population growth rates. Countries like Japan (-0.53%) and Italy (-0.34%) have a slightly decreasing population.
More Maps of the World, Continents, and Countries
Please find below a list of other useful maps of the world, its continents, and countries. Check them out and get your free printable maps as PDF files.
Continent Maps
World Maps
Country Maps