A blank map of South America is a perfect tool for studying or teaching the geographical details of the South American continent. Download for free any South America blank map from this page as PDF file and print it out for yourself, your students or your children. Get your South America outline map now!
Apart from the maps shown on this page, we also offer various versions of a labeled South America map with countries. And of course, we also have maps for several South American countries, such as Argentina or Brazil. Check them out, too!
South America Outline Map
Our first map is an empty map of South America that only shows the outline of the continent with its outer boundary. Scroll further down to find more detailed black-and-white maps of South America.
You might also want to take a look at our other continent maps.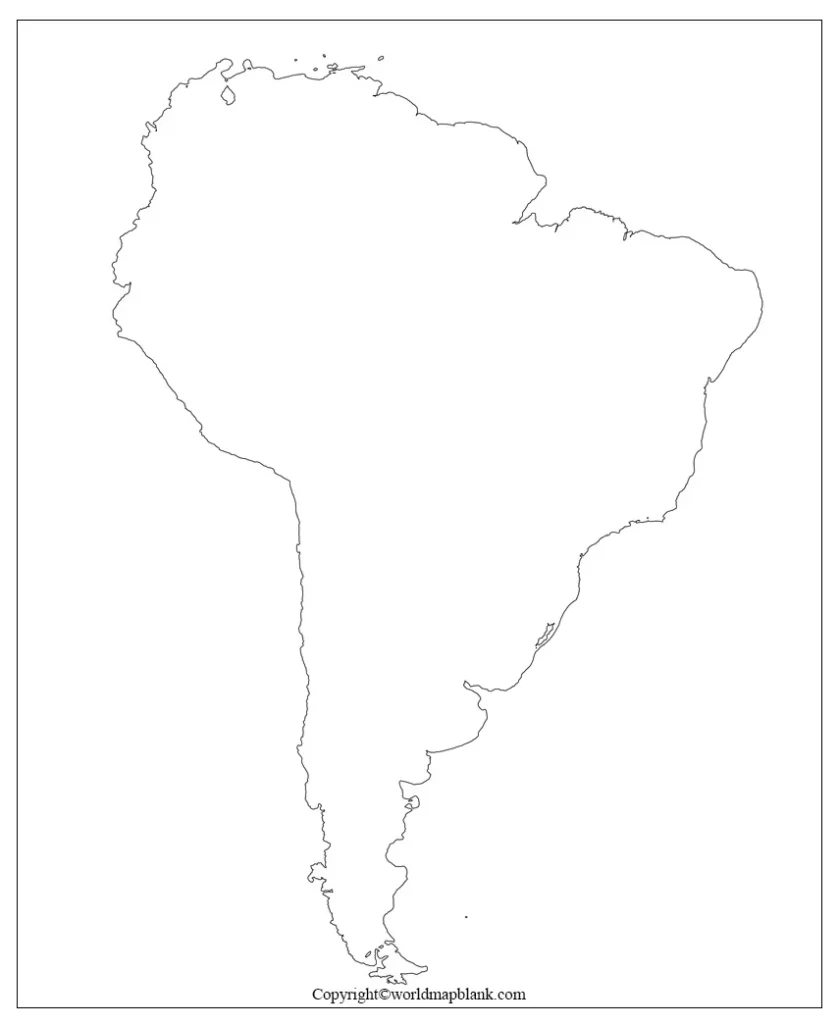 South America is a huge continent with a land area of 6,890,000 square miles (17,840,000 square kilometers). It borders with the Pacific Ocean, the Caribbean Sea, the Atlantic Ocean, and the Antarctic Ocean. From the world's highest waterfall to long rivers and the driest place on earth, there is a lot to discover in this amazing part of the world.
South America Map Outline
Here is an alternative and more detailed version of an outline map of South America. Besides the mainland, it also shows islands like Isla Margarita, the Galapagos Islands and the Falkland Islands (Islas Malvinas). You can download this and some other blank South America maps in the formats A4 and A5.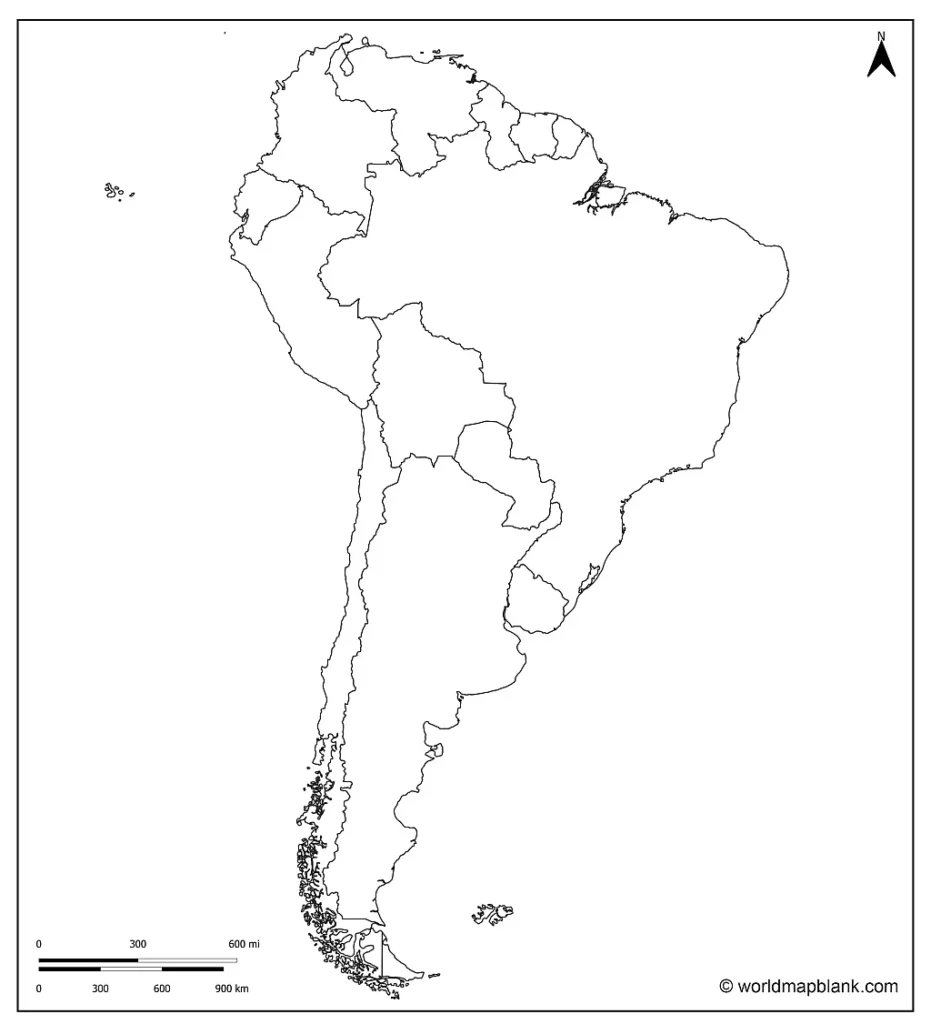 South America is located in the western hemisphere and (for the greater part) the southern hemisphere of our planet and makes up about 12% of its landmass. The continent is home to a variety of landscapes, from the Amazon rainforest via the Atacama Desert to some of the world's highest mountains, such as the Aconcagua in the Argentinian Andes.
Map of South America Unlabeled
Download, save and print an empty South America map with or without country borders. You can have your students or kids add the names of the South American countries or even draw all borders by themselves.
Here is a blank South America map with a slight 3D effect: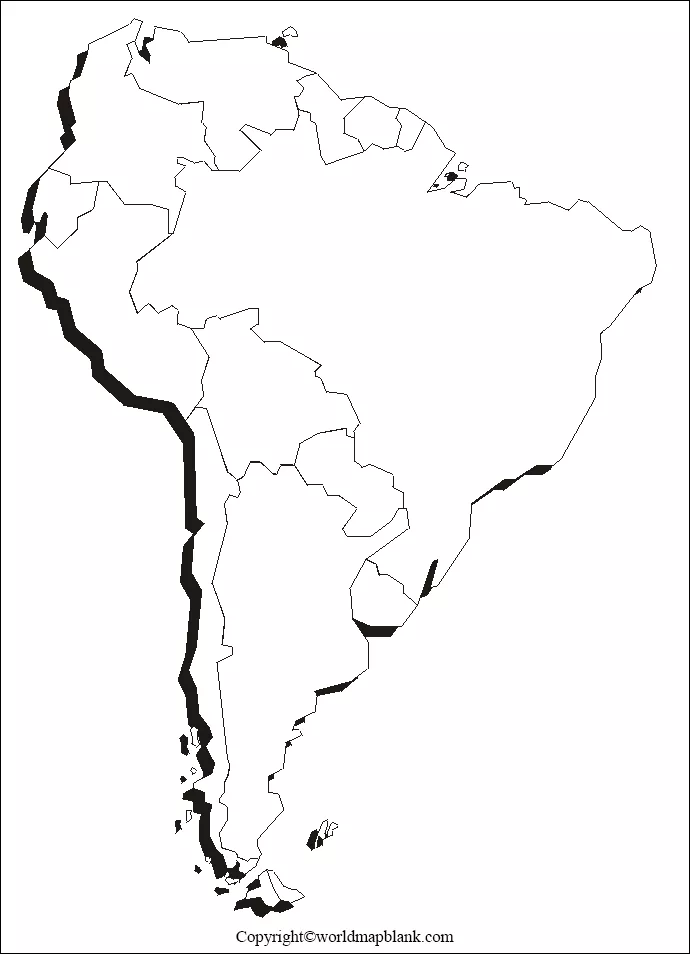 The mainland of South America is shared by twelve sovereign countries. These are Argentina, Bolivia, Brazil, Chile, Colombia, Ecuador, Guyana, Paraguay, Peru, Suriname, Uruguay and Venezuela. French Guiana is an overseas department of France. The Falkland Islands as well as South Georgia and the South Sandwich Islands are two British Overseas Territories in the South Atlantic.
Blank Map of South America Printable
The Amazon River is one of the most famous features of South America. Next to the Nile, it is the longest river in the world and runs through Brazil, Peru, and Colombia. Also, large portions of South America are covered by rain forest and home to a diverse array of plant and animal life.
The following map is a South America map with solid color.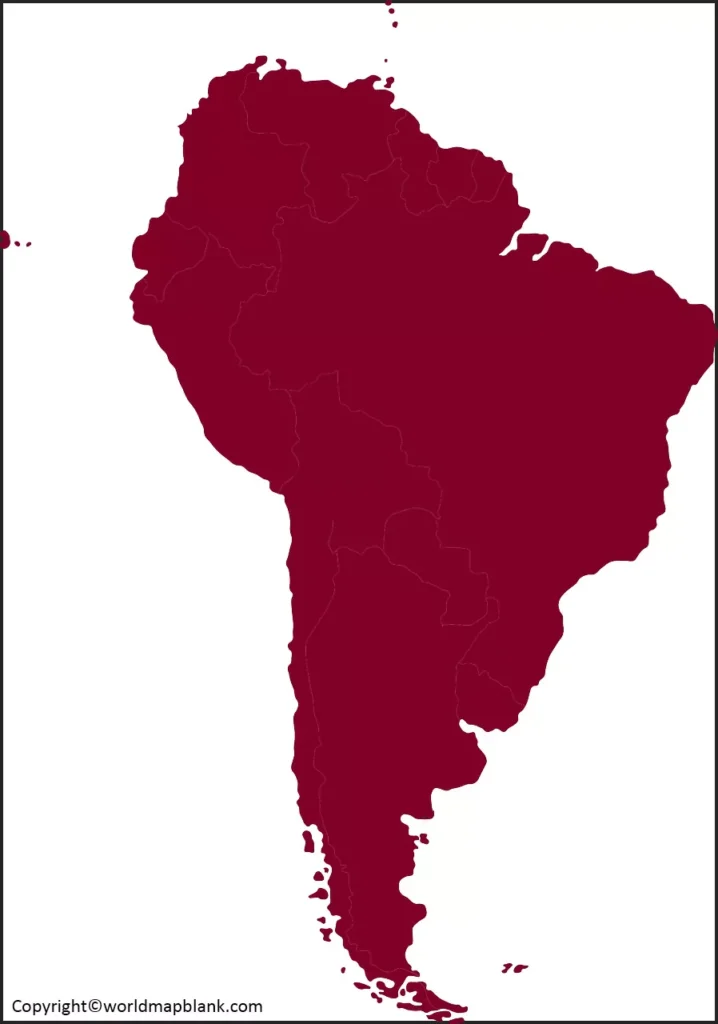 Unlabeled Map of South America
The large majority of the population of South America lives along the continent's eastern and western coasts. The far south and the interior are much less populated. The west of South America is dominated by the Andes mountains, the longest continental mountain range. The eastern part of the continent contains both vast lowlands and highland regions. This is also where the Amazon, Paraná, and Orinoco flow. A big portion of South America has a tropical climate.
Our next map is a blank political map of South America showing all the country borders. Please be aware that the Archipelago of San Andrés, Providencia and Santa Catalina is not included.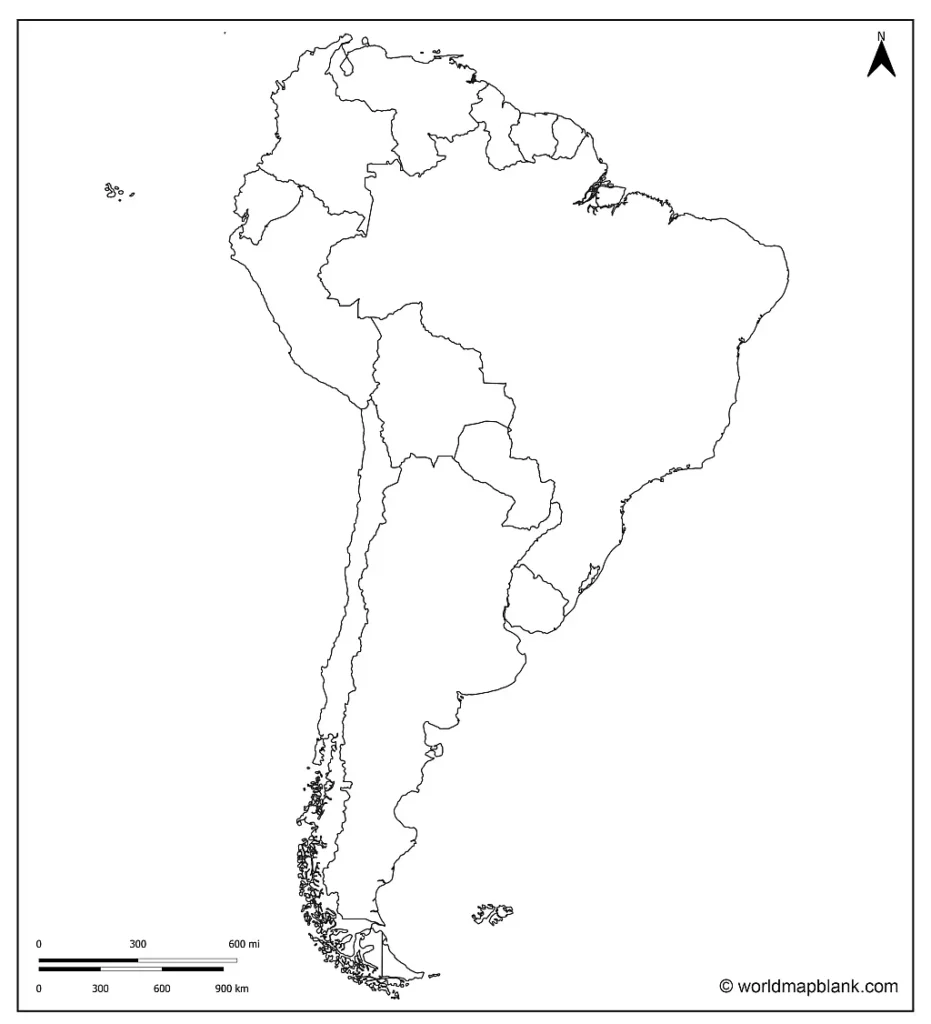 South America's cultural and ethnic structure is based on the interaction of indigenous peoples with conquerors and immigrants from Europe as well as slaves from Africa. As a result of the long period of colonialism, the vast majority of the population of South America speak Spanish or Portuguese.
Printable Blank Map of South America
A printable map of South America is useful for many different purposes. Simply click on the link below the image of the desired map. You can download any of the South America maps on this page as a PDF file for free.
Here is a blank map of South America PDF showing all the countries and their capitals. For Bolivia, two capitals are marked in the map. The reason is that La Paz is the seat of government, but Sucre is the constitutional capital.
What are the Capitals of the Countries of South America?
Here is a list of all the capitals of the South American countries:
Argentina – Buenos Aires
Bolivia – La Paz / Sucre
Brazil – Brasilia
Chile – Santiago de Chile
Colombia – Bogotá
Ecuador – Quito
French Guiana – Cayenne
Guyana – Georgetown
Paraguay – Asunción
Peru – Lima
Suriname – Paramaribo
Uruguay – Montevideo
Venezuela – Caracas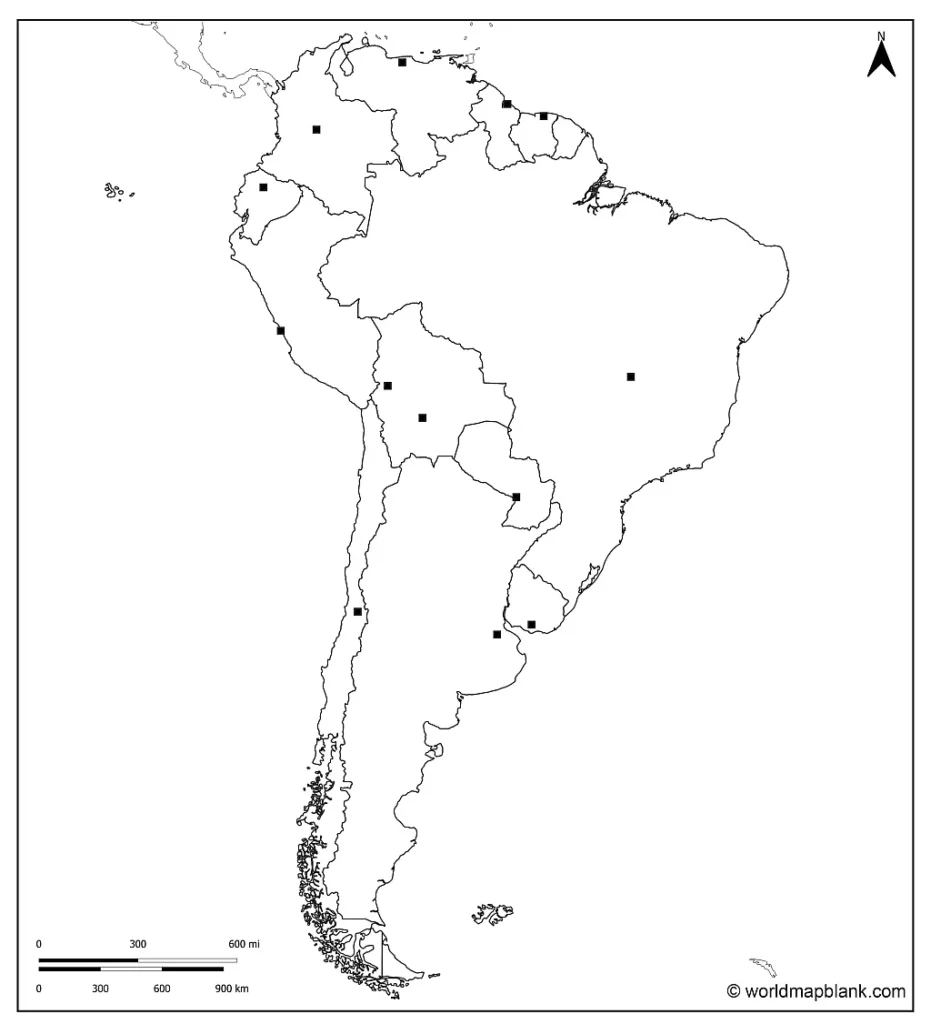 A printable map of South America is useful for many different purposes. Simply click on the link below the image of the desired map. You can download any of the South America maps on this page as a PDF file for free.
Blank South America Map – Transparent PNG
If you want the following map to actually be transparent, you need to download the image, not the PDF file.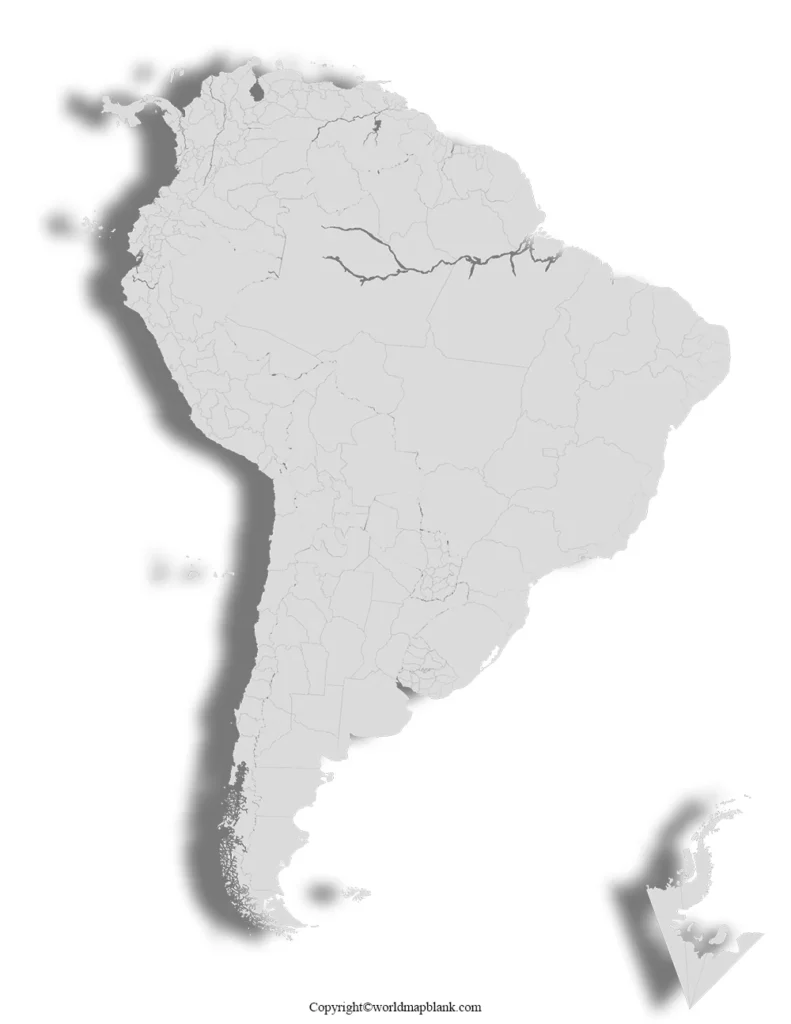 All the maps on this page can be a great resource for learning about the geography of South America. A printed and colored map can decorate your classroom wall or be used in any other school project. Alternatively, you might want to use a printable map of South America without labels for professional purposes.
Blank Map of South America for Practice Worksheet

Here is another South America map without labels that can be used for map worksheets. It is slightly less detailed as the similar one further above.
Teachers can use a map of South America for practice worksheets to create exercises for their geography class. You can also utilize blank maps for geography quizzes or homework assignments. Pupils can complete the printed map with country names as well as cities and rivers. A worksheet with a blank printable map can help school children and other learners to memorize countries and other geographical characteristics.
More Free Maps to Download and Print
Below you'll find a collection of links to other blank maps that you might be interested in. They all can be great tools to learn and teach about geography, history, politics, and social studies. You can also download a world map or continent maps. All maps on this website are available as PDF files.
Blank Country Maps
World Maps
Continent Maps
Other Printable Maps