Download here a political map of Argentina with provinces or an Argentina map with cities for free in PDF. We offer various different versions of an Argentina map for you to choose from. Most of our maps are available in different sizes, so you can pick the one that fits best for your needs.
Argentina Map with Provinces
Our first map is an Argentina map with provinces (provincias) including all the borders between them. The neighboring countries of Argentina are named as well.
You can download this and most of our other maps of Argentina in the two size formats A4 and A5.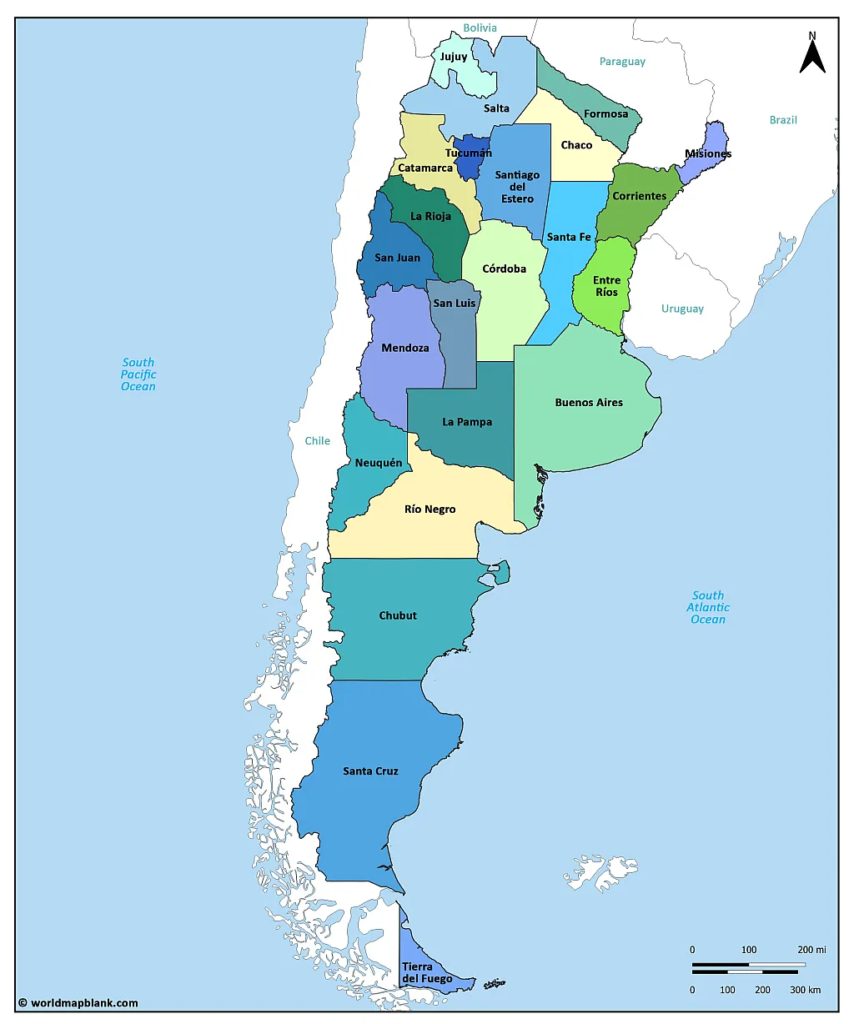 Use this map in combination with a blank map of Argentina with provinces to enhance your teaching or learning experience.
Where is Argentina located?
Argentina is a country located in South America. It is bordered by Chile to the west, Bolivia and Paraguay to the north, Brazil to the northeast and Uruguay to the east. It has a long coast line along the Atlantic Ocean. In the south, it has the Beagle Channel in Tierra del Fuego, an archipelago shared with Chile.
Argentina is the eighth largest in the world by land area and the second largest in South America, after Brazil.
What is the Capital of Argentina?
The capital of Argentina and also the country's largest city is Buenos Aires, with a population of over 15 million people. Buenos Aires is located in the east of Argentina at the Río de la Plata, opposite of Colonia del Sacramento in Uruguay.
Major landmarks and attractions in Buenos Aires include the iconic Obelisk, the Teatro Colon, and the historic neighborhoods of La Boca, San Telmo, and Palermo. The city is the economic, political and social center of Argentina. Furthermore, it is known for its vibrant art scene, featuring museums like the Museo Nacional de Bellas Artes in Recoleta, and the MALBA (Museo de Arte Latinoamericano de Buenos Aires), which showcase works by Argentine and Latin American artists.
Buenos Aires has a blend of architectural styles, with neoclassical, art nouveau and art déco all being particularly prominent. Many historical buildings in the city were constructed in the boom period of Argentina's capital from 1880 through the 1920s. The Recoleta neighborhood is especially renowned for its impressive neoclassical structures which make it feel like you're walking through Paris itself! That's why Buenos Aires is also called the "Paris of South America".
Map of Argentina with Provincial Capitals
Our next map of Argentina with capital does not only show the Argentinian provinces, but also includes the capital city of each of them as well as the location of the national capital, Buenos Aires.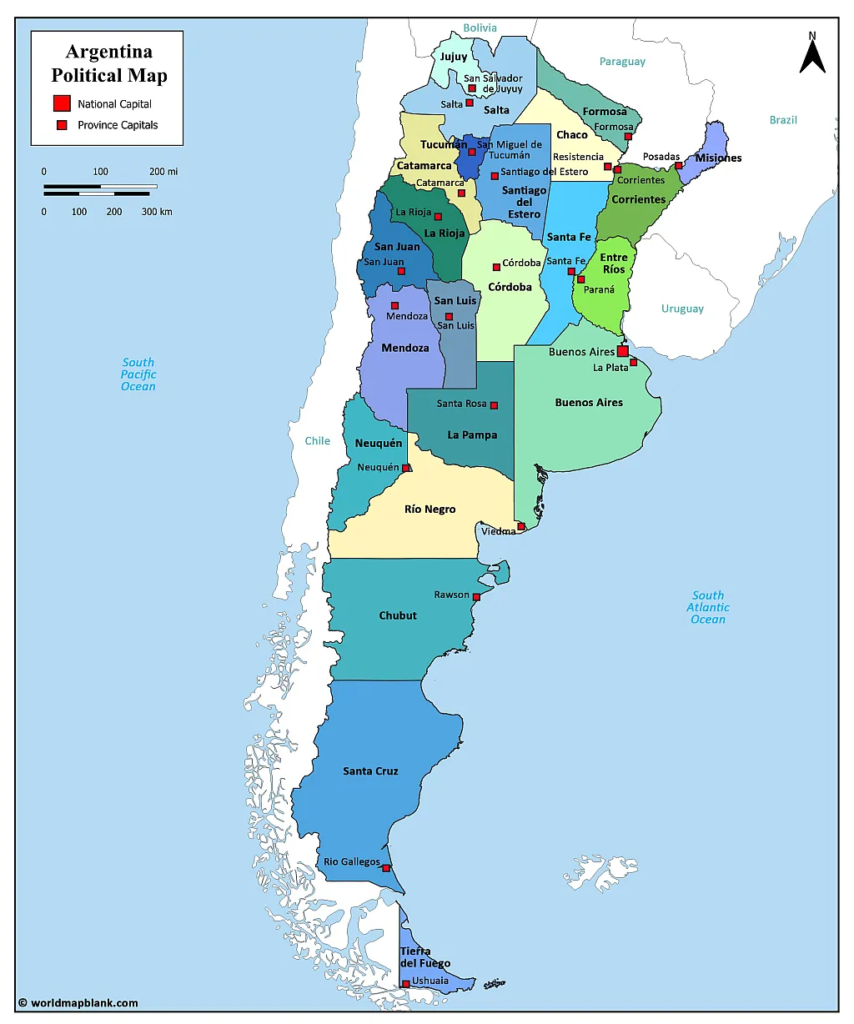 We also offer a complementary blank map of Argentina with capitals which works great in combination with the map above.
Argentina's Provinces
In addition to the capital, the Ciudad Autónoma de Buenos Aires, Argentina has 23 provinces. Here is an alphabetical list of all the Argentinian provinces with their capitals:
Buenos Aires (La Plata)
Catamarca (San Fernando del Valle de Catamarca)
Chaco (Resistencia)
Chubut (Rawson)
Córdoba (Córdoba)
Corrientes (Corrientes)
Entre Ríos (Paraná)
Formosa (Formosa)
Jujuy (San Salvador de Jujuy)
La Pampa (Santa Rosa)
La Rioja (La Rioja)
Mendoza (Mendoza)
Misiones (Posadas)
Neuquén (Neuquén)
Río Negro (Viedma)
Salta (Salta)
San Juan (San Juan)
San Luis (San Luis)
Santa Cruz (Río Gallegos)
Santa Fe (Santa Fe)
Santiago del Estero (Santiago del Estero)
Tierra del Fuego (Ushuaia)
Tucumán (San Miguel de Tucumán)
Map of Argentina with Cities
The largest cities of Argentina after the capital Buenos Aires are Córdoba, Rosario and Mendoza.
Córdoba is the second largest city in Argentina with over 1.5 million inhabitants. Its culture is deeply entwined with the city's colonial heritage. This heritage dates back to the 16th century when Spanish rule was established, and features many historical monuments that have been conserved over time. Córdoba is also known for universities and other educational institutions, making it one of Argentina's most bustling student cities.
In Córdoba, there are extraordinary landmarks to visit, such as the UNESCO World Heritage site Jesuit Estancias – grand colonial-era buildings – or Manzana Jesuítica with its impressive architecture that reflects religious influence from centuries ago. In addition there are plentiful museums like Museo de la Memoria and Museo de la Ciudad which provide valuable insight into Córdoba's history.
Our next map shows all the provinces of Argentina with their capitals and a number of larger cities and towns.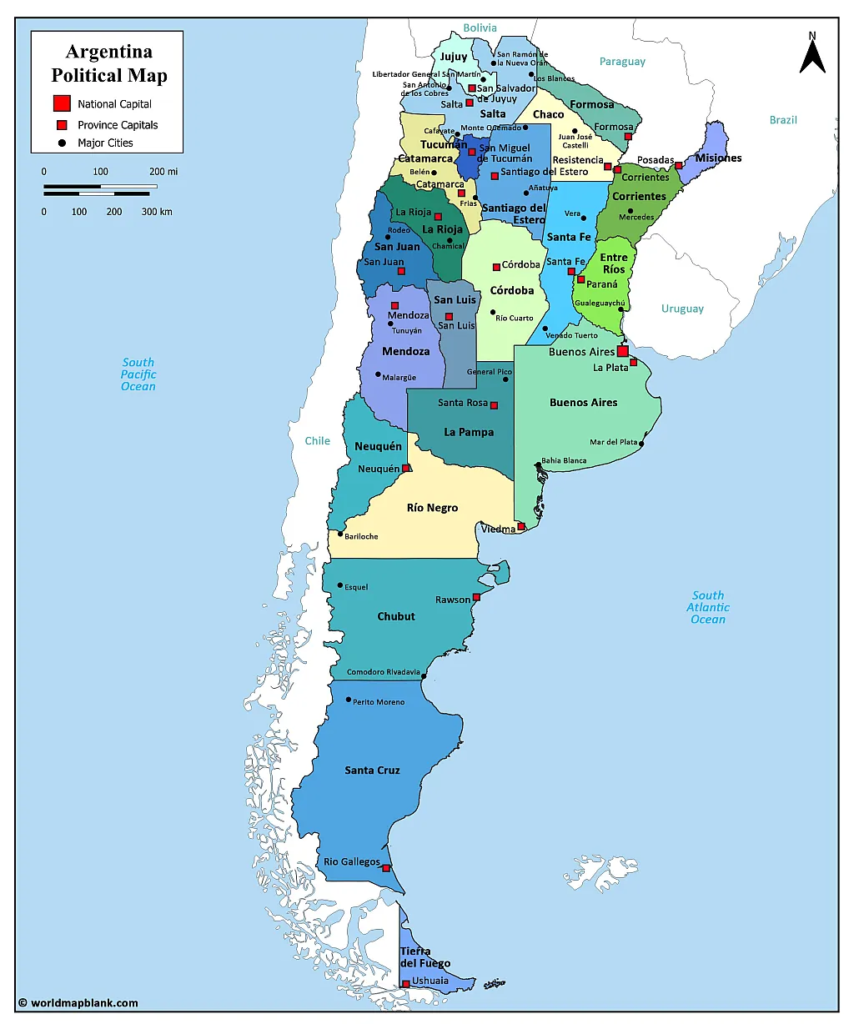 Rosario is the provincial capital of Santa Fé and located in the northern part of Argentina along the Paraná River. With a population is approximately 1.2 million people, it is the country's third-largest city. Visitors to Rosario can enjoy a range of attractions, including Orfeo Superdomo (an entertainment center), Monumento Nacional al Gral. San Martin (a historic monument commemorating Argentina's independence), and Parque Independencia (a historical park).
Rosario also has a unique cultural heritage with an interesting history and vibrant art scene which blends modern elements with traditional architecture styles. The city's cuisine is particularly known for its mouthwatering dishes like locro (a hearty stew made with corn, beans, and meat) and empanadas de carne (savory pastries filled with meat).
And of course, Rosario is the birthplace of revolutionary Ernesto "Che" Guevara, who was born here on 14 June 1928. In commemoration of his 80th birthday, a 4-metre-tall bronze statue was inaugurated in Rosario in 2008. The material for the statue came from the equivalent of roughly 75,000 keys donated by 14,454 people.
Map of Argentina Flag
Here is a map of Argentina filled with the colors of the Argentinian flag.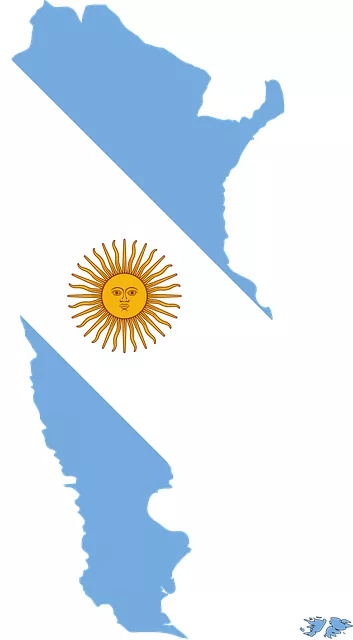 Mendoza, a city located in the Cuyo region of western Argentina, is known for its wine, culture and beauty. Home to about a million people, Mendoza sits at the foothills of the Andes Mountains near Aconcagua Mountain, the highest peak in the world outside of Asia.
The city's main attractions feature its unique and eclectic architecture, illustrious wine industry (remarkable because there are no wineries within city limits), picturesque gardens and parks, interesting art galleries, and exquisite dining opportunities.
Aside from activities like outdoor hiking and exploring nearby vineyards, Mendoza serves up something special that many visitors don't expect – an eye-opening glimpse into local history. Many tourists come here looking to learn all they can about Mendoza's rich culture and customs, which includes traditional masonry techniques combined with Spanish colonial pictorial architecture to create something truly unique.
Thanks to its incomparable wine-making industry (Mendoza is home to remarkable malbec grape varieties), this special Argentinean city continues to captivate travelers from all over the globe who have largely acclaimed it as an unforgettable experience.
Other major cities in Argentina include San Miguel de Tucuman, La Plata, Mar del Plata and Salta.
Argentina is a very diverse and in many ways limitless country. It has several distinct regions with each their own characteristics and attractions.\
What are the Regions of Argentina?
In the northwest portion of the country lies Cuyo, an extensive region consisting of wine valleys, amazing mountain ranges, tree-filled parks and colorful creeks. Moving farther south, you can find Patagonia, a remote part of the world with unique wildlife and breathtaking views. To its east is the Pampas, a flat region limited only by Argentina's vast skies where estancias – cow-stocked ranches – create a special atmosphere. With these varied landscapes and considered to be one of the world's two great breadbaskets, Argentina is an incredible destination for anyone looking to explore a spectacular corner of South America.
Map of Argentina in South America
Our last map shows the location of Argentina on a labeled map of South America. We also provide outline and blank maps of the South American continent.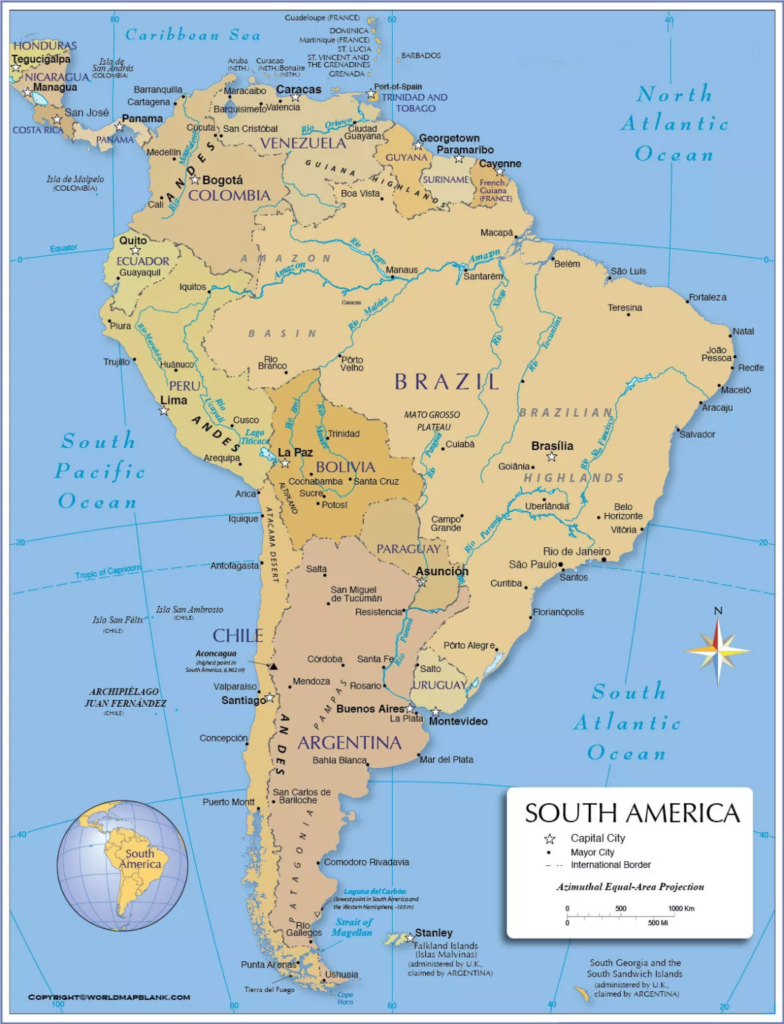 What are the major rivers in Argentina?
The major rivers of Argentina are the Paraná, Uruguay, and Paraguay rivers. The Paraná River (3,030 miles or 4,880 km total length) is the longest in the country and also flows through Brazil and Paraguay. It merges first with the Paraguay River and later with the Uruguay River to form the Río de la Plata any empty into the Atlantic Ocean.
The Uruguay River runs along much of Argentina's borders with Brazil and Uruguay before joining with the Negro River. Other significant rivers in Argentina are the Salado River (710 miles or 1,150 kilometers long), which has its source in the Salta province, and the Colorado River in the south of Argentina at the border of Neuquén and Mendoza.
More Free Maps for Download
Do you need more maps of countries in South America or on other continents? Then check out our list below with links to additional maps that you can download, print and use free of charge. You can also use the search feature on top of this page to find even more PDF maps.
Maps of South American Countries
World Maps
Continent Maps
Other Country Maps