Download here an Ireland blank map or an outline map of Ireland for free in PDF format. You can print out any Ireland map blank from this page in unlimited numbers for your educational, professional or personal needs.
For an optimal learning experience and success, combine any of the maps from this page with a labeled map of Ireland with counties and towns.
Outline Map of Ireland
Our first map is an Ireland outline map showing the outer boundaries of the Republic of Ireland. Additionally, the shape of Northern Ireland is included to complete the island of Ireland.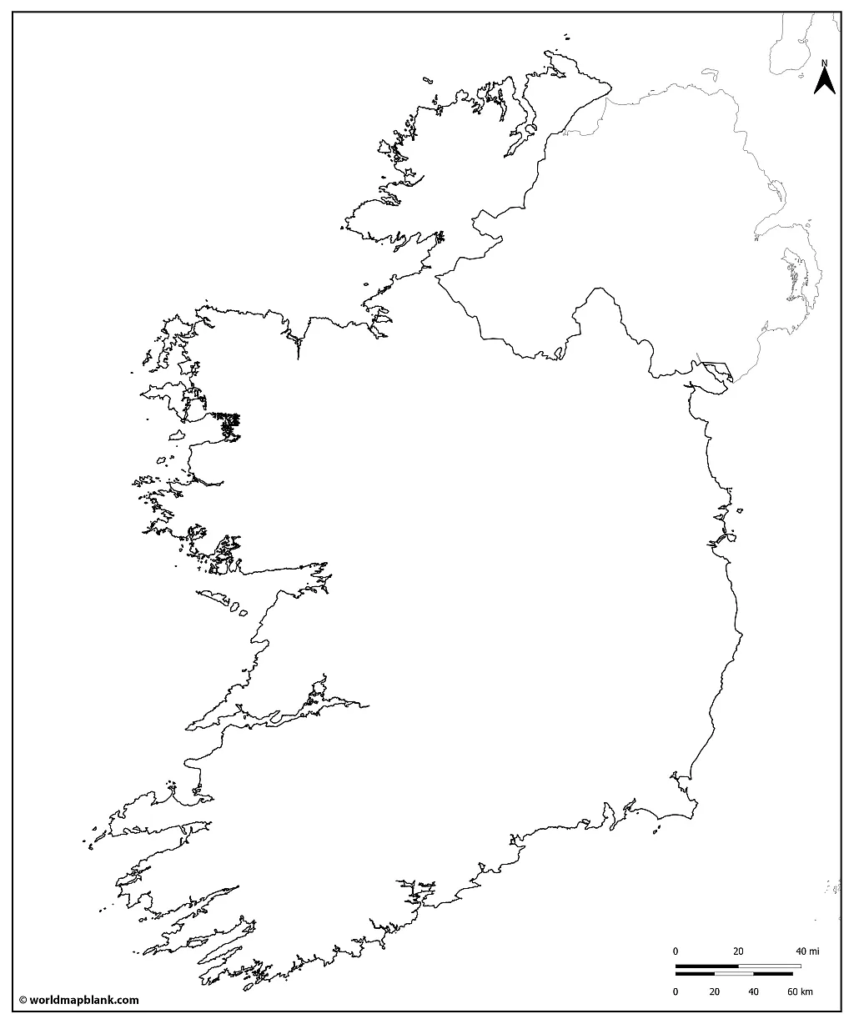 Ireland Map Blank
Our next map is a printable blank map of Ireland with all the internal county borders. It also includes the outline of Northern Ireland.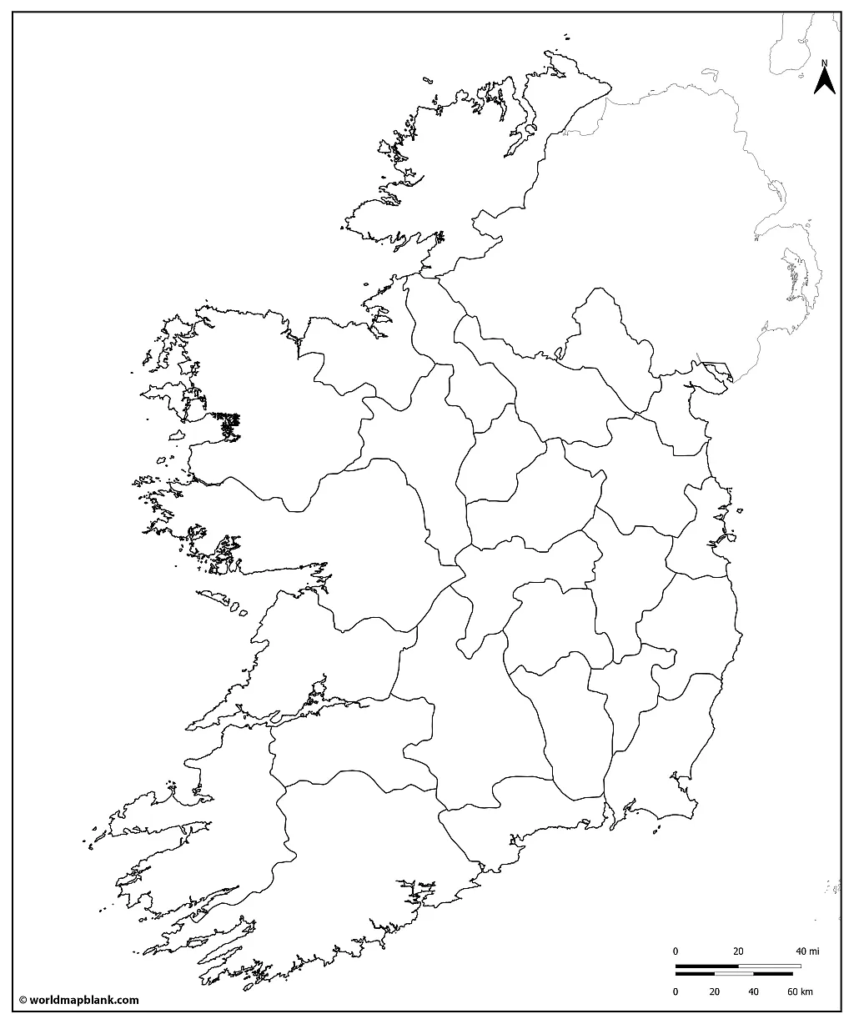 Use above map to learn and memorize the county names of the Republic of Ireland. If you need a reference map, take a look at our Ireland map with counties labeled.
In alphabetical order, the Irish counties, cities and cities with counties are Carlow, Cavan, Clare, Cork, Cork City, Donegal, Dublin City, Dún Laoghaire-Rathdown, Fingal, Galway, Galway City, Kerry, Kildare, Kilkenny, Laois, Leitrim, Limerick, Longford, Louth, Mayo, Meath, Monaghan, Offaly, Roscommon, Sligo, South Dublin, Tipperary, Waterford, Westmeath, Wexford and Wicklow.
Blank Map of Ireland
The next map is similar to the one above, but it also includes the water body of the Atlantic Ocean around the island of Ireland.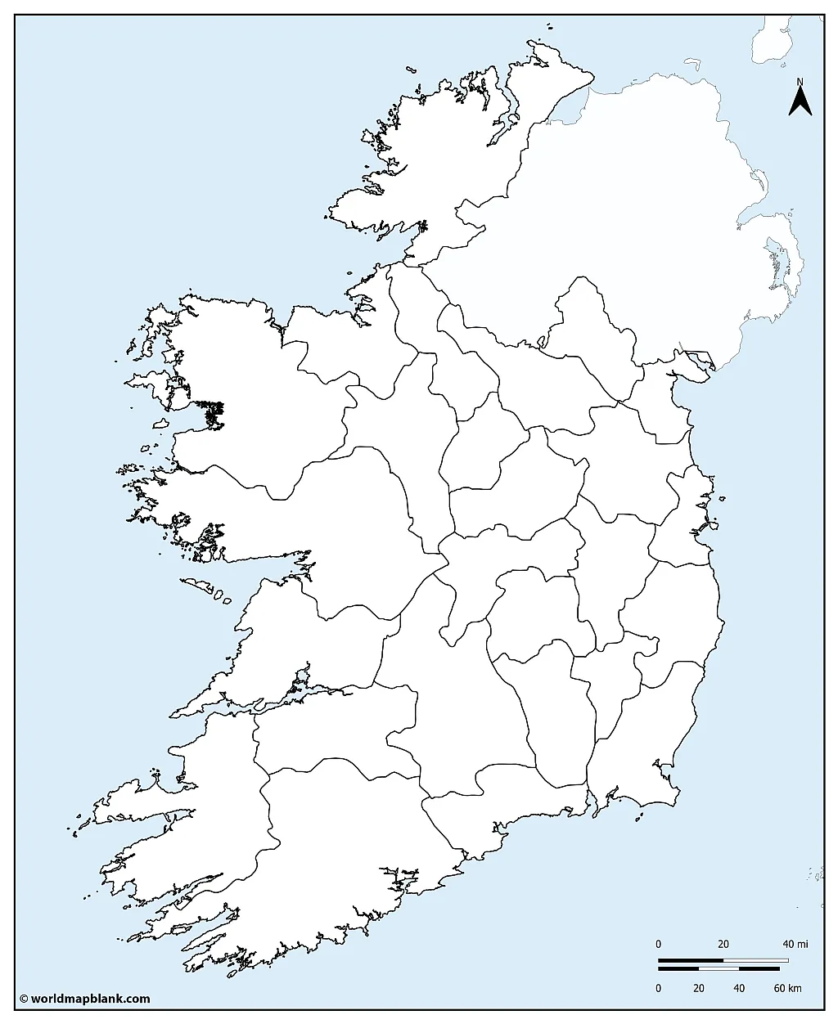 In this map, you or your students can additionally label the Irish Sea, the North Channel, the Celtic Sea and St. George's Channel which separate the "Emerald Isle" from Great Britain.
Blank Map of Ireland with Counties
If you would also like to get familiar with and remember the county towns of Ireland, then our following map is the right one for you. This blank map of Ireland counties also includes the main towns of Ireland.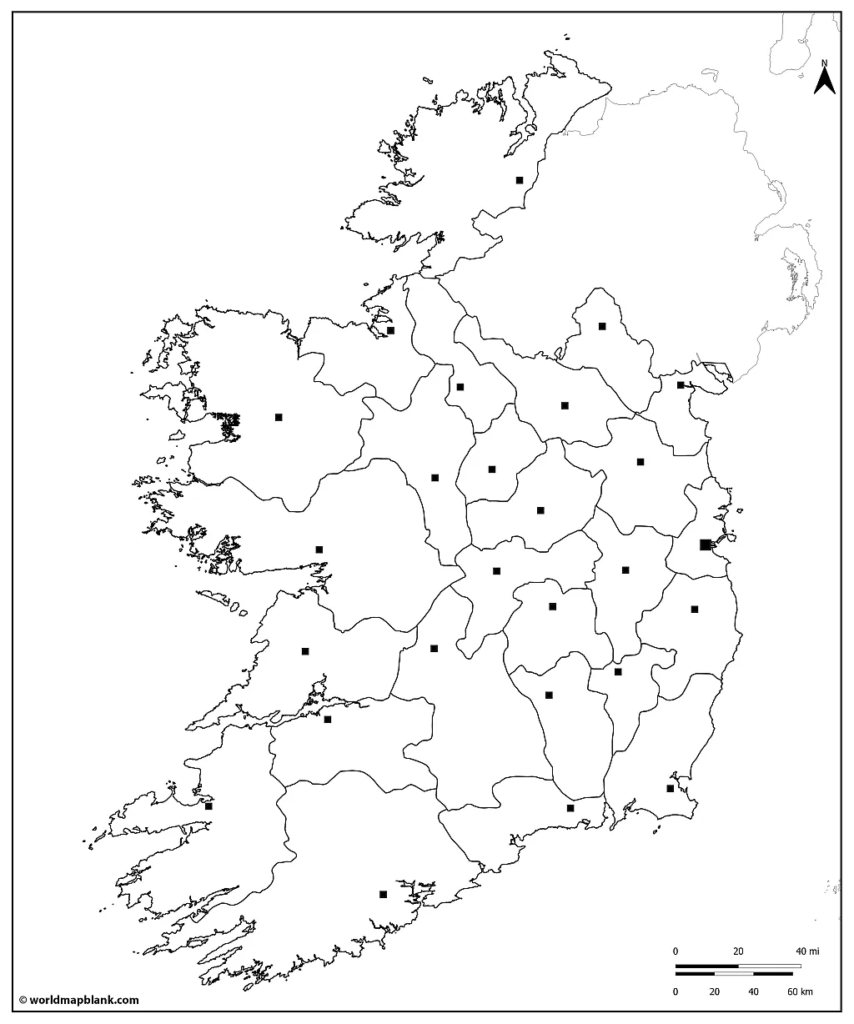 With this map, you or your students can memorize all the counties and country towns of the Republic of Ireland.
Here is a list of the Irish counties with their capitals:
Carlow – Carlow
Cavan – Cavan
Clare – Ennis
Cork – Cork
Cork City – Cork
Donegal – Lifford
Dublin City – Dublin
Dún Laoghaire-Rathdown – Dún Laoghaire
Fingal – Swords
Galway – Galway
Galway City – Galway
Kerry – Tralee
Kildare – Naas
Kilkenny – Kilkenny
Laois – Portlaoise
Leitrim – Carrick-on-Shannon
Limerick – Limerick
Longford – Longford
Louth – Dundalk
Mayo – Castlebar
Meath – Navan
Monaghan – Monaghan
Offaly – Tullamore
Roscommon – Roscommon
Sligo – Sligo
South Dublin – Tallaght
Tipperary – Clonmel and Nenagh
Waterford – Waterford
Westmeath – Mullingar
Wexford – Wexford
Wicklow – Wicklow
Blank Ireland Map with Counties
The next map of Ireland blank includes not only the counties and their capitals (county towns) but also additional smaller towns.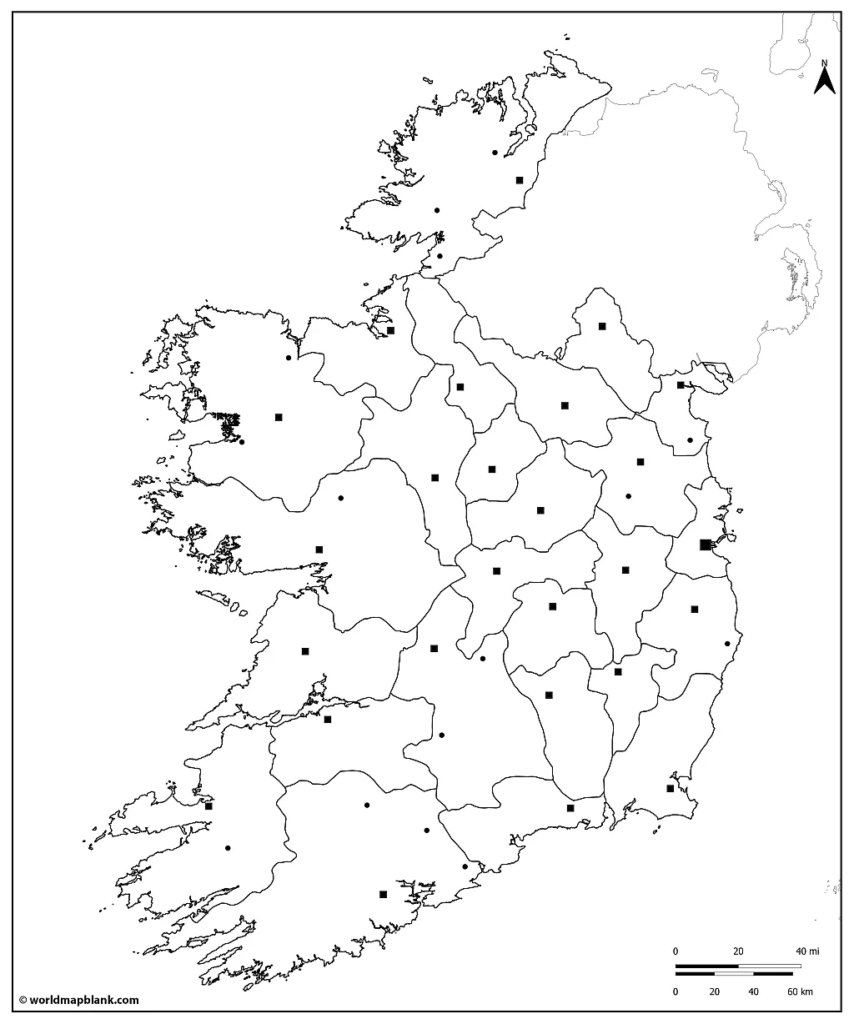 This is our most detailed printable blank map of the counties of Ireland. Use it to create a large variety of learning exercises about the administrative divisions and geography of the Republic of Ireland.
Additional Free and Printable Maps
Below we have added a list of links to additional useful maps. In case your desired map is not included, please use the search feature at top of the page. Alternatively, you can get in touch with us via our contact form and tell us what kind of map you need. We will then try to create it for you and publish it on our site.
All of our maps are free to use and can be downloaded as PDF files. Additionally, we offer geography worksheets for various topic and a selection of wall maps and other resources in our World Map Blank Shop.
Country Maps
Continent Maps
World Maps
USA Maps