An Austria map outline or a blank map of Austria helps with learning and memorizing the geographical features of this European country. Download any Austria blank map from this page for free as a PDF file and print it out for your teaching or learning needs.
Additionally, we offer an Austria map with states to complement your materials.
Outline Map of Austria

Our first map is an outline map of Austria showing only the outer boundaries of the country. Use it to get familiar with the shape of the country or for drawing all kinds of geographical features into the map. For example, you or your students could try to add cities, the capital, mountains, rivers, lakes, forests, or state borders.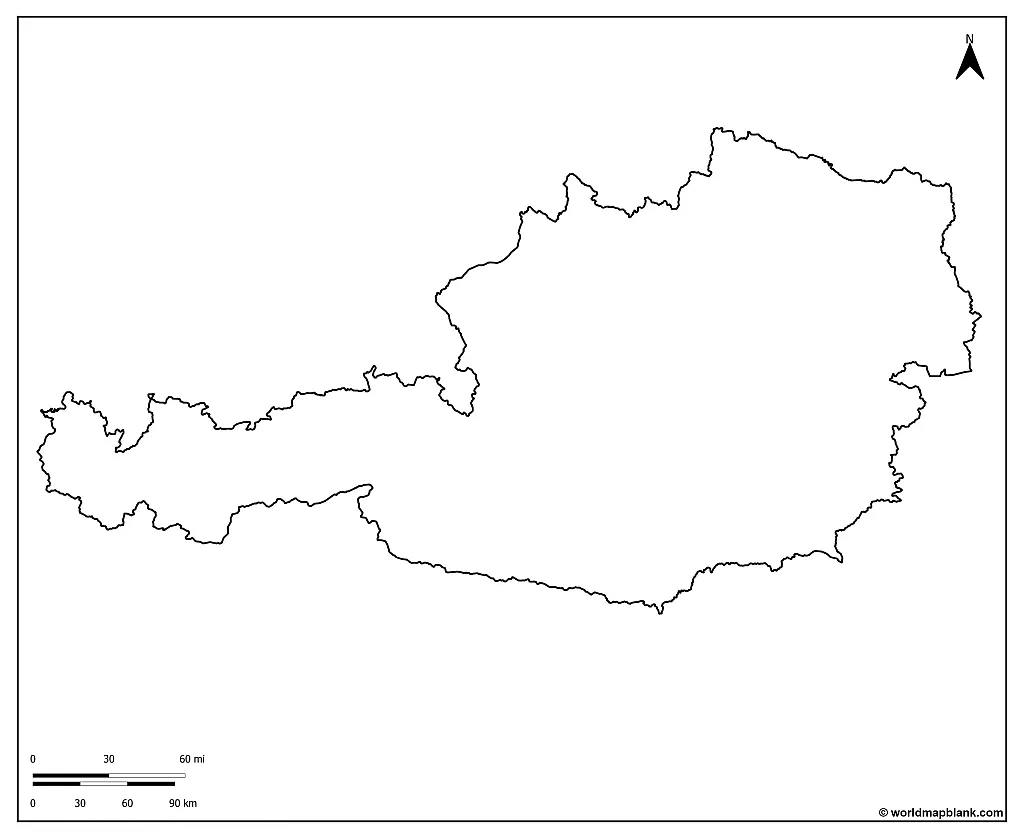 Most of our other blank maps of Austria include additional information such as inner borders, city names, or neighboring countries. However, below is an even more simple one only showing the outline of Austria.
Austria Blank Map Outline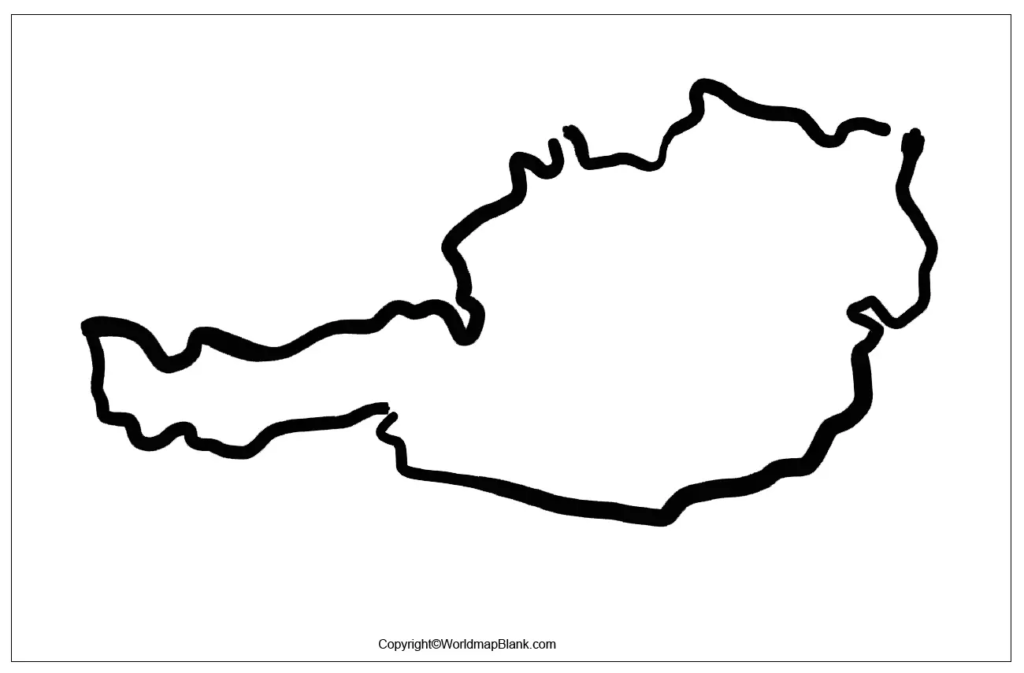 What is the capital of Austria? How many states does Austria have? What are the capitals of the Austrian states? If you want to create learning activities around these and similar questions, our following maps further below might be more useful for you.
Blank Austria Map
Austria is a landlocked country in central Europe that is divided into 9 states or Bundesländer. The states of Austria and their capitals are Burgenland (capital: Eisenstadt), Carinthia (Klagenfurt), Lower Austria (St. Pölten), Upper Austria (Linz), Salzburg (Salzburg), Styria (Graz), Tyrol (Innsbruck), Vorarlberg (Bregenz) and Vienna (Vienna). The last in the list is called Wien in German and also serves as the national capital of Austria.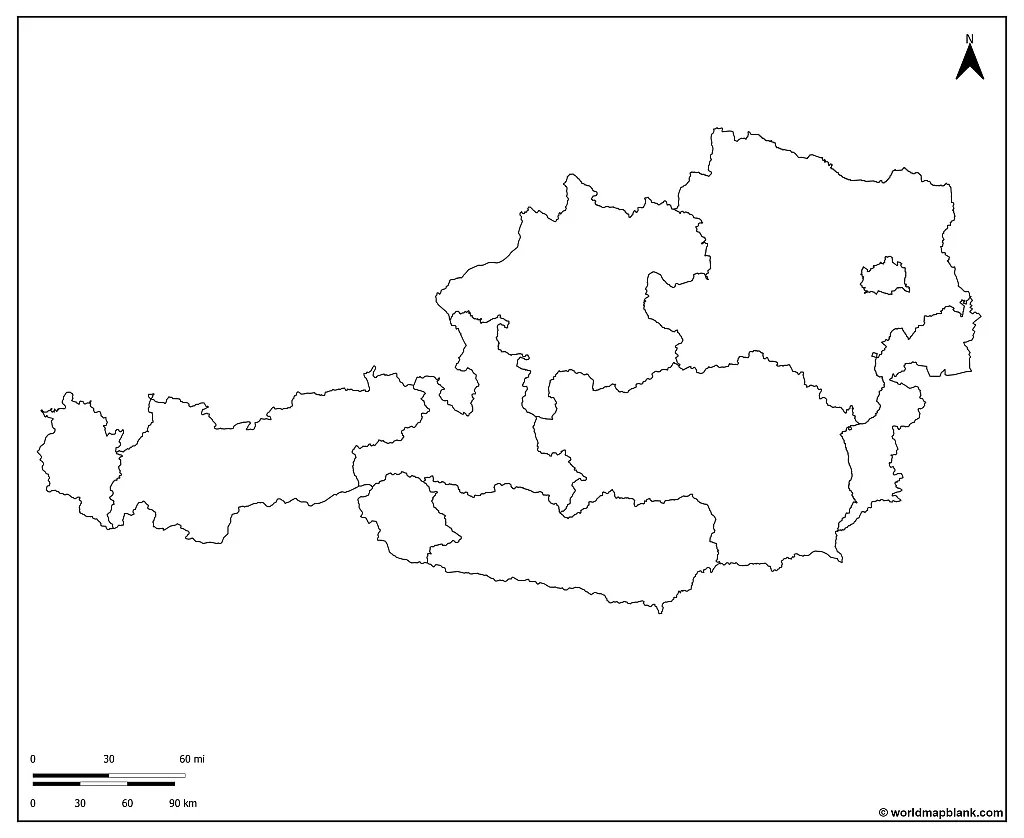 The map above is a blank Austria map with all the state borders. Just below you will find an alternative map with similar features.
Printable Blank Map of Austria
Note that in the following map, the international borders of Austria are marked with a thicker line than the inner borders between states.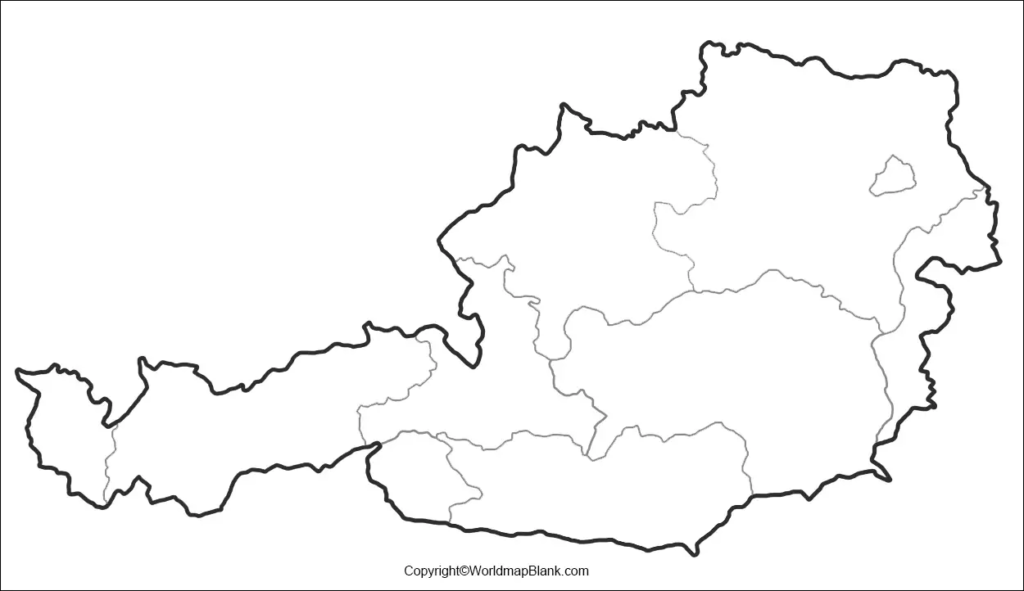 If you need a blank map of Austria with surrounding countries or cities, check out our next ones!
Austria Map Blank
The neighboring countries of Austria are Germany, the Czech Republic, Slovakia, Hungary, Slovenia, Italy, Switzerland, and Liechtenstein. Our next blank map of Austria and its surroundings includes all of them as well as further international borders.
In addition to that, the northern part of the Adriatic Sea with the Gulf of Venice is shown also.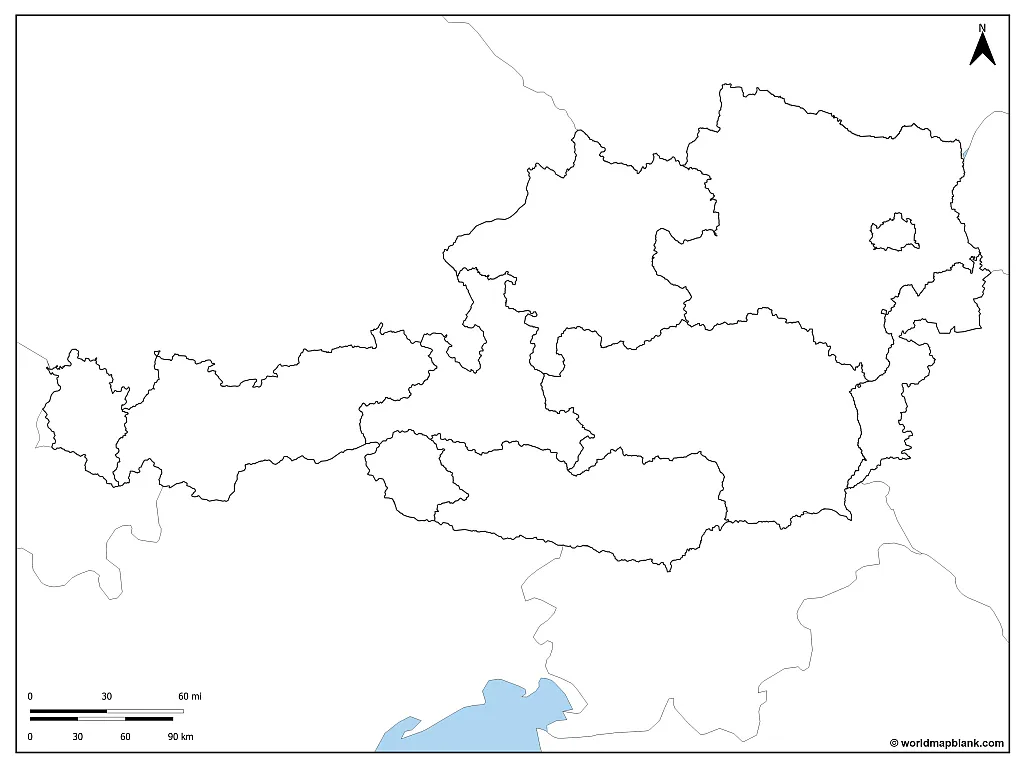 Use above map to memorize where Austria is located on a map of Europe. For more details and to complement your learning or teaching activities, check out our labeled map of Europe and our different variations of a blank map of Europe.
We also offer blank maps of the neighboring countries of Austria such as Germany, Switzerland and Italy.
Austria Blank Map with Capitals
Our next map of Austria blank includes state borders as well as markers for all the capitals of the Austrian states (Bundesländer).
In combination with a labeled map of Austria, this map is a great tool to memorize the names of the states of Austria and their capital cities.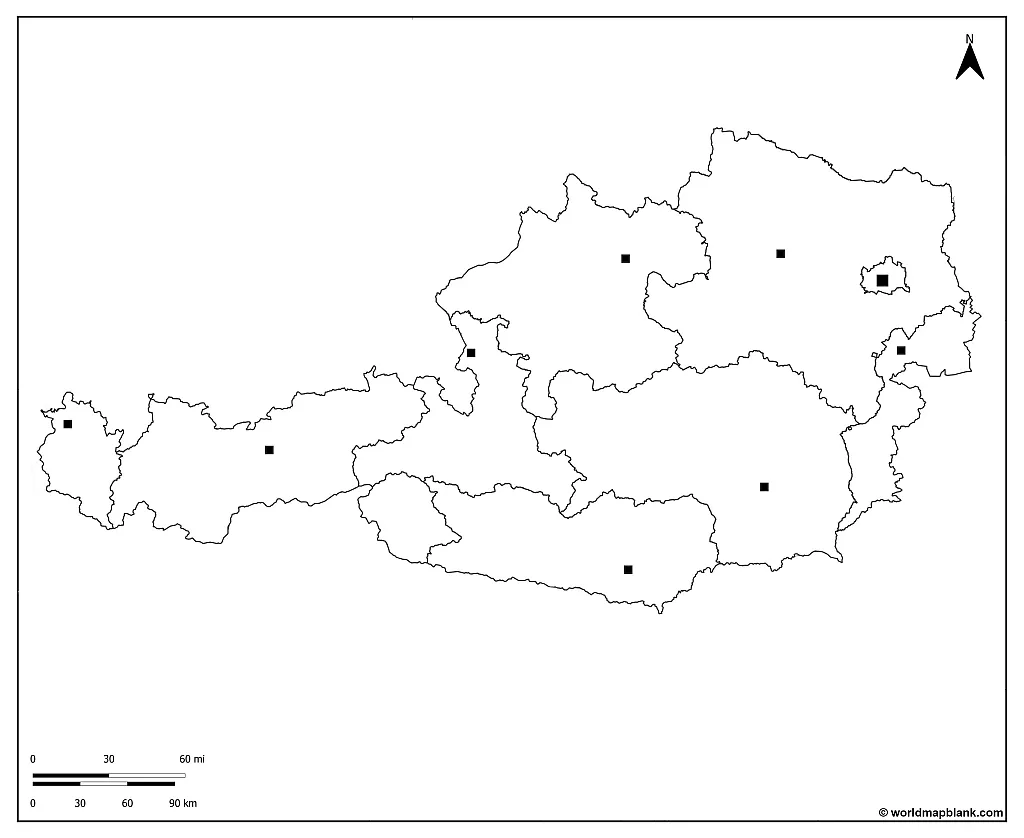 Here is a list of the nine states of Austria and their capitals:
Burgenland (Eisenstadt)
Carinthia (Klagenfurt)
Lower Austria (Sankt Pölten)
Salzburg (Salzburg)
Styria (Graz)
Tyrol (Innsbruck)
Upper Austria (Linz)
Vienna (Vienna)
Vorarlberg (Bregenz)
Blank Map Austria with Cities
The last of our Austria country outline maps is the most detailed one. Apart from the borders of the Bundesländer and the locations of their capitals, it also includes markers for a number of cities and towns.
For the best learning experience, this map can also be combined with a similar labeled Austria cities map. You can download both versions for free in different sizes.
More Country Maps and Other Geography Resources
Below we have collected some links to other maps that might be useful for you. We offer free printable maps of countries, continents, the world and more. Additionally, check out our map worksheets with fun and interactive exercises!
If the map you need is not in the list, please use the search function on top of this page. All the maps on our site can be downloaded in PDF and printed out on a standard sheet of paper in A4 or A5 size.
Country Maps
Continent Maps
World Maps