Labeled Map of Belize can be accessed in a free printable PDF version. With the assistance of this map, the user will be able to understand the geographical details of the country. Belize is located in the east coast of the central region of North America. Bordering the Caribbean Sea, Belize has international borders with Mexico and Guatemala.
The capital city of Belize is known as, Belmopan, and Belize has more than four hundred islands, islets, and cays along its coast in the Caribbean. This includes one of the largest and inhabited islands known as, Ambergris Cay. Being a tropical wonderland, Belize has a low population density. Out of the huge portion of land, about sixty percent of the inland is forest and moat, which is undisturbed. This geography of Belize makes an ideal home to more than five thousand species of plants and hundreds of different animals.
Labeled Map of Belize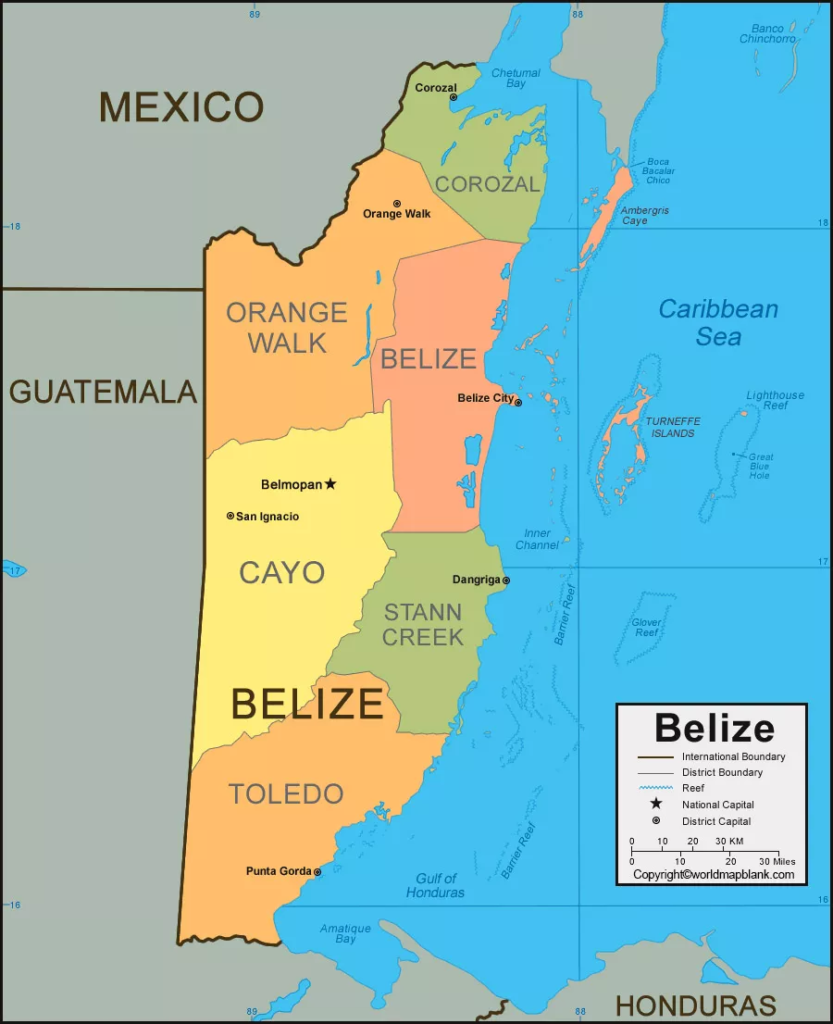 The estimated 2020 population of Belize is 419,199 people, and this population is equivalent to 0.01 percent of the total global population. Some of the major rivers that flow through Belize, include Belize Old River, Bladen Branch River, Boots River, Deep River, Golden Stream, Macal River, Manatee River, and Moho River. The land area covered by Belize is 8,867 square miles or 22,970 square kilometers. Roman Catholic is the major religion that is followed by the people.
Labeled Map of Belize with States
As a part of the labeled map of Belize with states, Belize is divided into six districts, namely Toledo, Stann Creek, Cayo, Belize, Orange Walk and Corozol. They are equivalent to the states in the US. However, the districts in the Belize country are found to be somewhat larger than that of some of the states in the US, but the country is found to be smaller and the divisions are a few.
Labeled Map of Belize with Cities
As a part of the labeled map of Belize with cities, there are two cities; the Belize and Belmopan City. There are seven towns in Belize and they are San Pedro, San Ignacio, Punta Gorda, Orange Walk Town, Dangriga, Corozal Town, and Benque Viejo del Carmen.
Labeled Belize Map with Capital
The labeled Belize map with Capital shows that the national capital of Belize is Belmopan. It is situated near the town of Roaring Creek, in the River Valley of Belize. It is fifty miles or eighty kilometers inland to the Belize City, which was the former capital on the Caribbean coast. Many of the residents of Belmopan are employees of the government.
The city has a population of 20,000 and is considered as the fastest growing population center in Belize. The city has expanded rapidly owing to immigrants who have settled in the outskirts of the city. It has an imposing view of the majestic Mountain Pine Ridge mountains, and people living in the city can enjoy a cool climate at night.