The Labeled Map of Illinois is a unique document that exhibits all the details of Illinois state, in the US. The user can view from the map that it is a midwestern US state bordering Indiana, in the east. In the west, it is bordered by the Mississippi River. Illinois is noticeable by wetlands and rolling hills, forests, and farmland. This state has a nickname known as, "the Prairie State." Illinois is a landlocked state situated in the north-central part of the US. Further to the north, Illinois has borders with Wisconsin in the northeast, and with Michigan through a water boundary of Lake Michigan.
Labeled Map of Illinois
It also has borders with Kentucky, in the southeast, and with Indiana, in the east. The state forms a natural border with The Mississippi River, and also Iowa and Missouri in the west. Looking at the map of Illinois, the user can understand these boundaries surrounding the state. Further, the user can also derive the location of the state capital city, Springfield, other populated places and major cities, lakes and rivers, principal and interstate highways, including the details of railroads. The land area covered by Illinois state is 149,998 square kilometers or 57,914 square miles.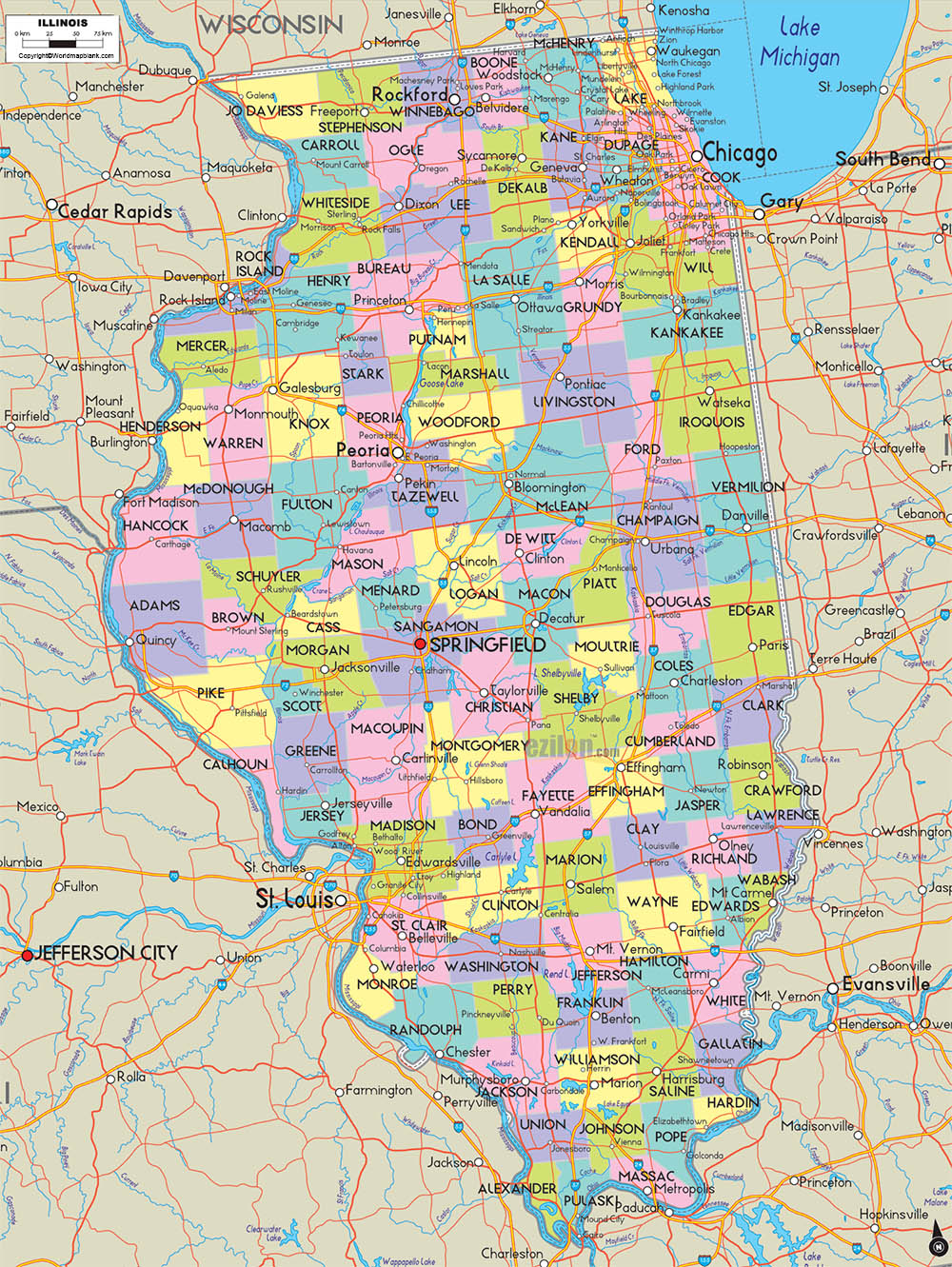 The state is ranked as twenty-fifth in its size when compared to the size of other fifty states, in the US. The major rivers in the state, include the Mississippi River, the Ohio River, the Wabash River, the Kaskaskia, and the Illinois rivers. Religions include Christianity, Islam, Hinduism, and other Secular, Nonreligious, Agnostic, and Atheists.
Labeled Map of Illinois Printable
Through the labeled map of Illinois with states, the user can identify that this state is divided into 102 counties. By population, the largest of these counties is, Cook County. This county is where Chicago is situated. It is considered the second-most populous county, in the US. The smallest county in the state of Illinois is known, as Hardin County. Maclean County has the largest land area, whereas Putnam County has the smallest area.
Labeled Map of Illinois with Cities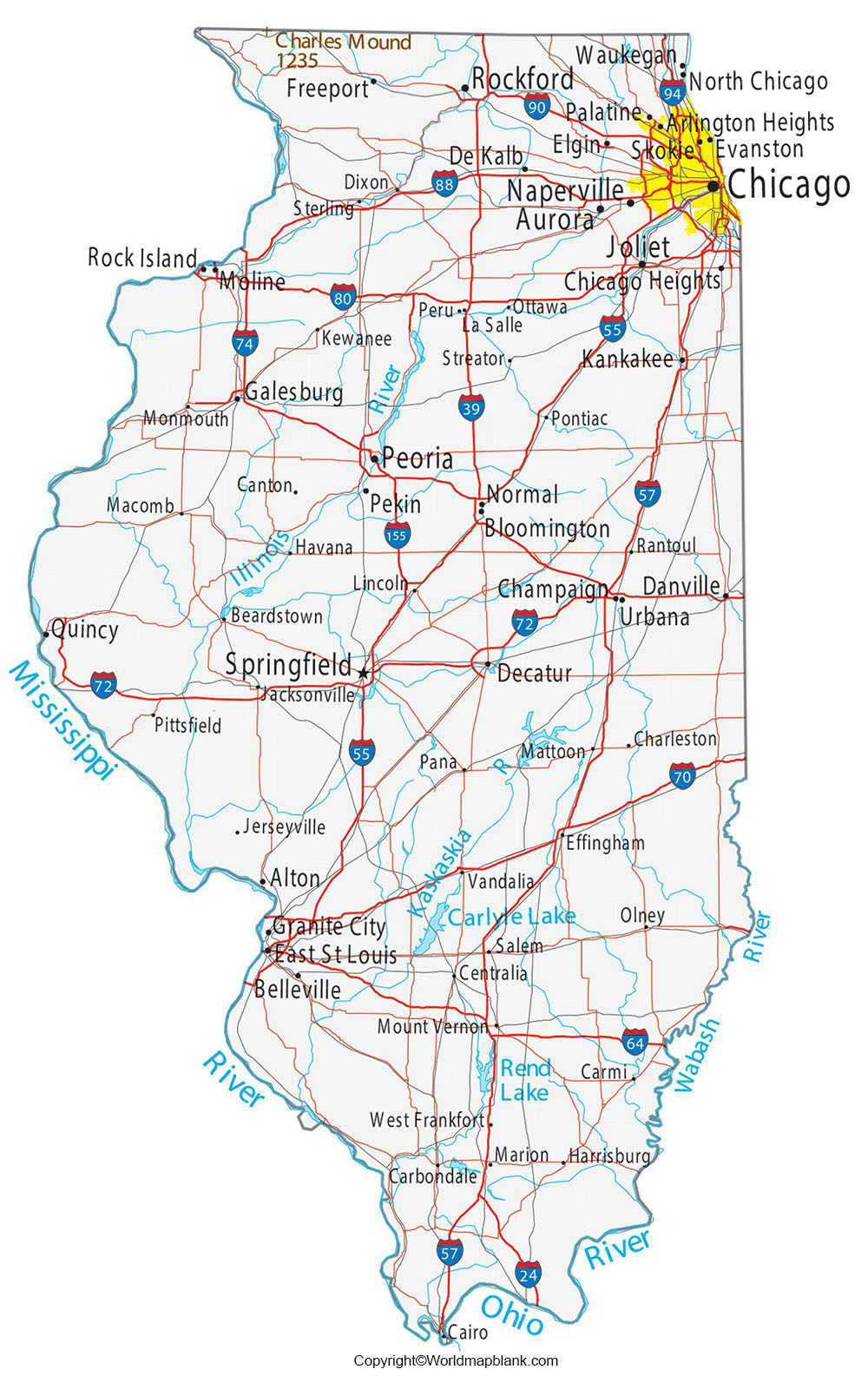 As a part of the labeled map of Illinois with cities, the large cities, including Chicago, Aurora, Naperville, Joliet, Rockford, Springfield, Elgin, Peoria, Champaign, and Waukegan.
Labeled Illinois Map with Capital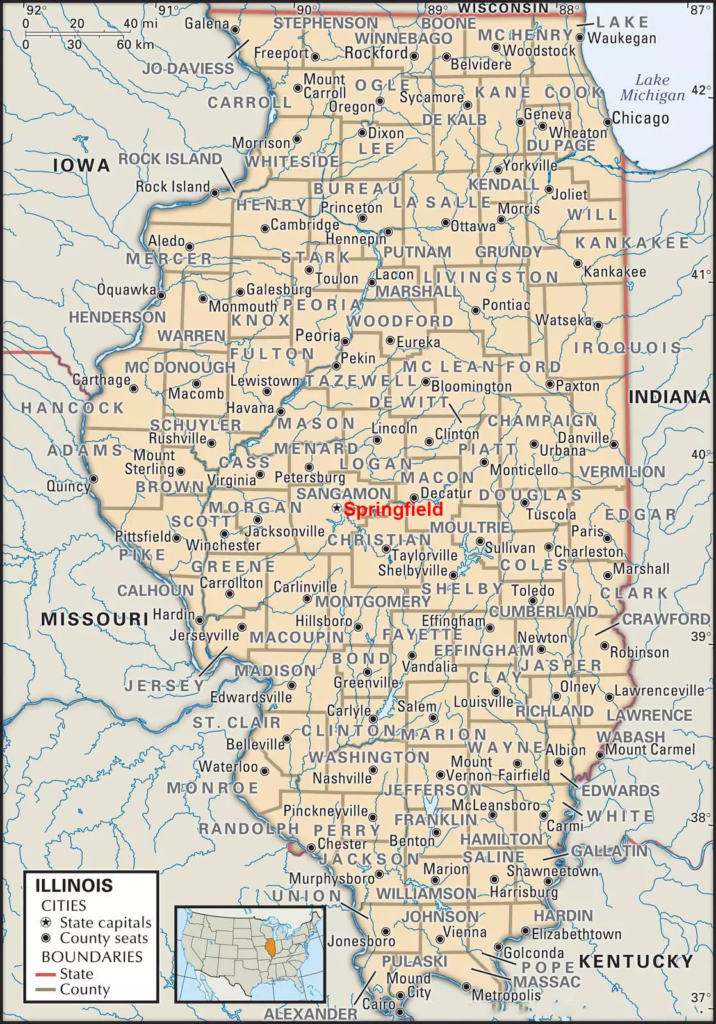 As a part of labeled Illinois with capital, Springfield is the capital city of Illinois. It has the State Capitol Building, which is the seat of the government of Illinois. This state building has a large dome decorated with stained glass and statues of historical famous figures. The city has the Abraham Lincoln Presidential Library and Museum that exhibits the life of the sixteenth President of the US. Nearby, the refurbished home of Lincoln is also situated. In the north, it is possible to view Lincoln's Tomb known as, the Oak Ridge Cemetery. Other attractions are that it is a wholesale and retail center for rich farming activities consisting of livestock, soybeans, and corn products.