Through the Labeled Map of Israel, one can understand that Israel is recognized as the State of Israel, officially. It is a country located in the Middle East. With the Mediterranean Sea in the west, the country has a coastline. Countries, like the Palestinian territories, Syria, Lebanon, Jordon, and Egypt border Israel. With Cyprus, it shares maritime borders.
However, the Israeli borders with the Palestinian territories, Lebanon and Syria, are still under dispute. As on Saturday, the first of August, 2020, the recorded population of Israel stood at 8,666,304 people. The total land area is equivalent to 22,145 square kilometers.
Labeled Map of Israel
There are five major rivers that flow in the state. They include Jordon River, Kishon River, Lakhish River, Ayalon River and Nahal Alexander. Jordon is the longest river that flows in Israel with a length of 251 kilometers. The major religion followed is Judaism, comprising 74.7 percent population. There are three groups of Judaism religion followers, namely Conservative Judaism, Reform Judaism and Orthodox Judaism.
Other religions followed, include Islam with 17.7% and Christianity with 2%. Israel is found to be larger than half the size of Denmark, but a little larger than New Jersey state in the US.
Labeled Map of Israel with States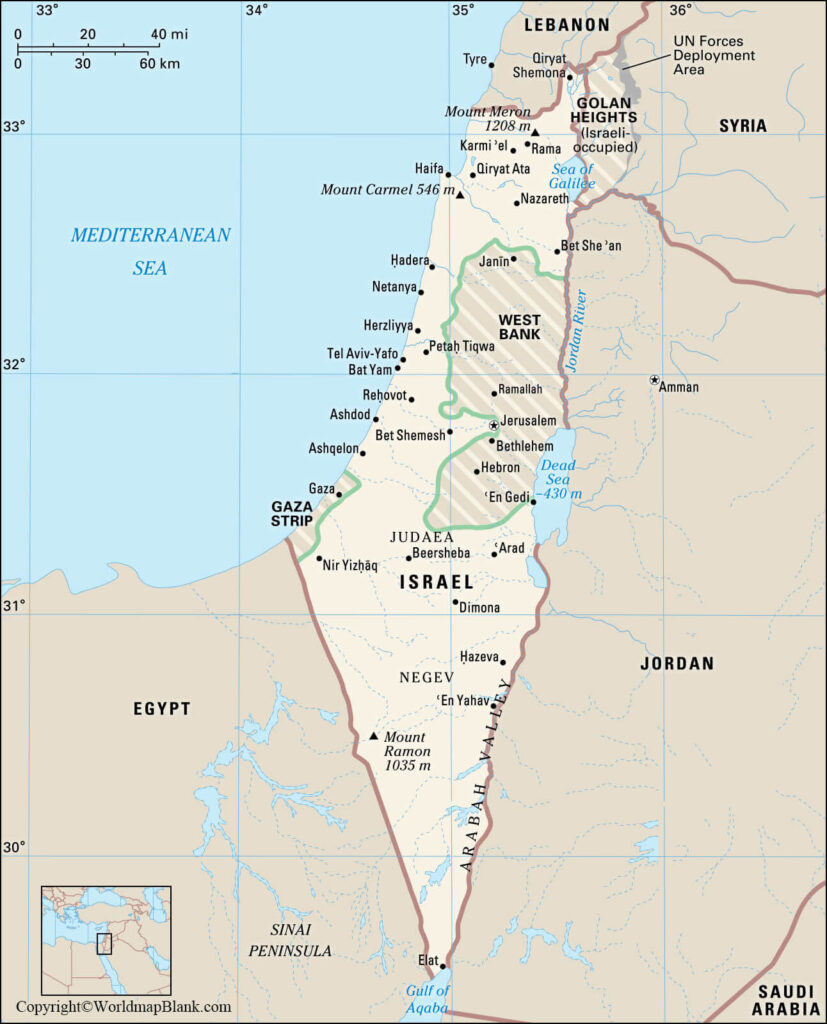 As a part of the labeled map of Israel with states, it can be seen that the State of Israel is categorized into six main Administrative districts. Each district has a capital city. Northern District is the first district with Nazareth as the capital. This district is occupied by Israeli territory of the Golan Heights. The second Israeli district is named Haifa, with Haifa as the capital.
The third district is known as the Central district with Ramla as its capital. The fourth district is Tel Aviv District with the capital as Tel Aviv. The fifth district of Israel is known as Jerusalem District, and its capital is Jerusalem. It includes eastern side of Jerusalem also. The sixth district is named under Southern district and its capital is Beersheba.
Labeled Map of Israel with Cities
Through the labeled map of Israel with cities, it may be observed that the State of Israel comprise sixteen cities. The population of these cities is more than 100,000, including Tel Aviv-Yafo and Jerusalem.
Labeled Israel Map with Capital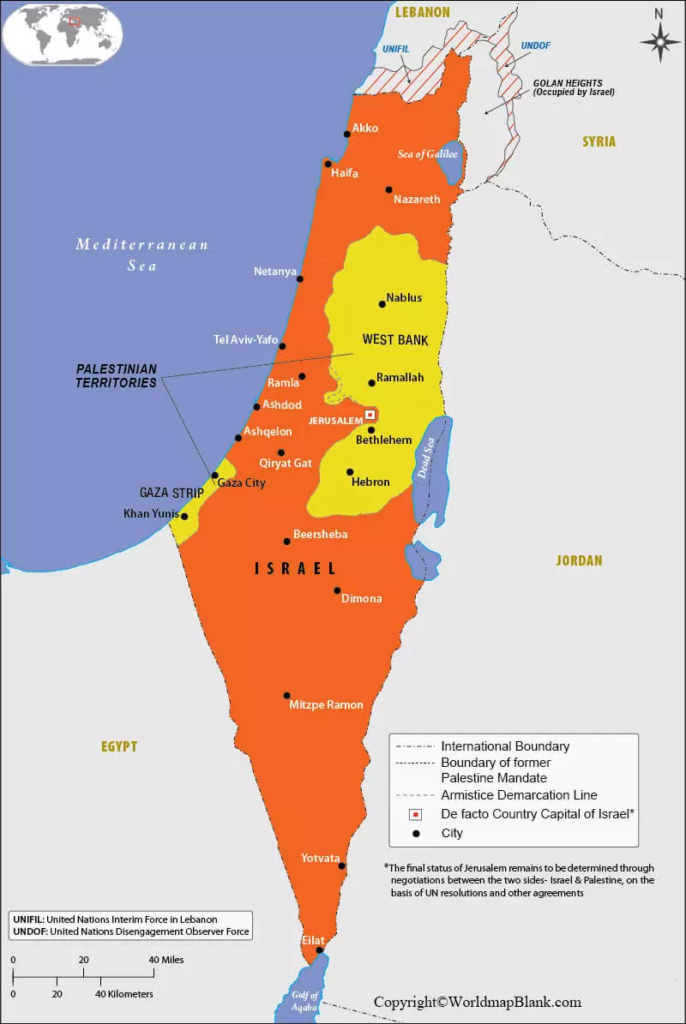 As a part of labeled Israel with capital, the country has named its capital city as Jerusalem. This city is considered as one of the oldest towns in the world. It is recognized as the holy city wherein different religions are followed, such as Abrahamic, Judaism, and Christianity. Since the year tenth century BCE, this city has been considered as the holiest city in Judaism. Incidentally, it occupies the ancestral as well as spiritual homeland of the Jewish people.